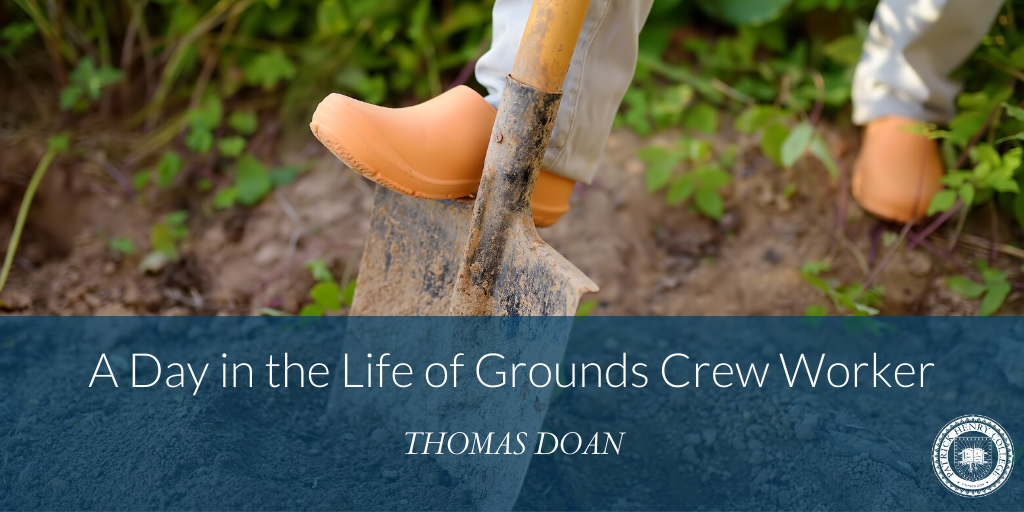 Patrick Henry College's location in Purcellville, Virginia opens the doors for students to work a wide variety of jobs, both on campus and off. For students who enjoy being in the great outdoors and don't mind getting dirty, a position on PHC's Grounds Crew is worth looking into. Read what Thomas Doan had to say about
[READ: Off-Campus Job Opportunities.]
How long have you worked with Grounds?
I have worked since the freshman year, so four semesters total, though I have also worked both summers.
How did you get the job initially?
I knew that to afford college, I would have to work a lot, so the first thing I did was to look on the PHC work page. I realized this looked like the only job I would genuinely appreciate. I had done grounds work in the past, so I sent the then boss an email to apply.
What's your favorite part?
Currently, my favorite specific action is to use the seated lawnmower. I can put in my audiobook and just drive for hours cutting grass. During the regular semester, we all have different jobs and those jobs are always changing, but when it snows every grounds man comes out, and we often have a pretty good day shoveling snow as a team.
In terms of the favorite aspect of grounds, the camaraderie is great with the crew. During our breaks (which are many, in the Virginia summer heat) we have fun talking and watching YouTube videos of people making food that we all want to eat but can't cook.
What does an average day of work look like?

We all get to basically assign our own hours. Grounds has a lot of liberty. We can request off whenever we need to, but that is earned by having to to be available whenever it snows no matter what (usually beginning at 6:00AM). Available hours open from 8:00A a.m. - 5:00 p.m., and we will complete assignments our boss provides. On Mondays and Fridays it starts with trash pickup, other days it may be lots of weeding, trimming, watering, shoveling, or mowing. It all depends on what the campus needs.
During the summer it's a lot different. Work starts at 7:00 AM and ends at 3:30 PM. We have the same tasks plus some, because we have more time. We have a very powerful Bluetooth speaker that we sometimes set up next to us while we work. This helps pass the time nicely. Our breaks are at 10:00AM, 12:00, and 2:00, which means we get at least enough time to rest a bit.
If you were to summarize what it's like to work on ground's crew in three words, what would they be?
I had to ask the other guys on the summer crew. Below are their answers to this:
"Destroying nature beautifully"
"Weedwacking [Lake] Bob endlessly"
"Can't reverse trailer" (This is likely connected to an accident with the trailer which tipped a cart over in the middle of a thunderstorm.)
"Tanning, weeding, memeing"
How is the team?
Well, don't tell them this because they'd tease me for saying it, but the crew has been fantastic. We develop the feeling of being a family, so we get along well. Those who sweat together work well together, I suppose.
Are there any "initiation rights" or other traditions?
Likely yes, though the possible qualities of those rights, oaths, challenges, or traditions are confidential.
Would you recommend the job to another student?
If you can handle some weird students, real work, and sun, go for it. We'd love to have you.
What have you gained from working Grounds?
I've worked many jobs over the past four or five years. Of all of them, Grounds has been the one that I enjoyed most. I have made good friends, learned useful skills, and enjoy the work I do and the visible impact it has. I suspect if you asked others, they would say the same.
_________
Learn more about campus services by clicking here...