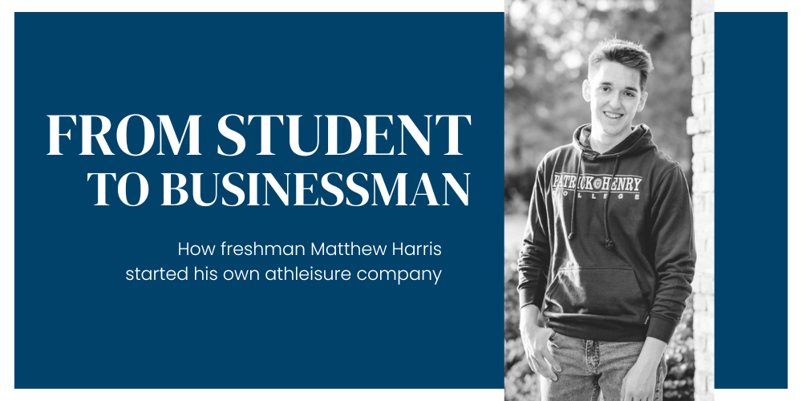 When they were 10 years old, freshman Matthew Harris and his twin sister started their own business: Harris Twins Pet Sitting. Every evening, the pet-loving twins walked their elderly neighbors' chihuahua mixes, Luci and Mick. Fat and stubborn, Luci refused to walk. Slimmer but equally stubborn, Mick made walking his goal in life. The disparity in fitness between the dogs presented the twins with their first business problem. They consulted each other and developed a strategy. 
After the twins agreed who would lead Luci, Luci's walker picked up the fat dog and carried her around the corner. Mick and his walker briskly followed. Around the corner with no clue where she was, Luci determined to get home as fast as possible. Thus, the walk began. Harris Twins Pet Sitting continued working for this elderly couple through high school.
As the years went by, the Harris twins' relationship with these neighbors turned into more than a job of walking stubborn dogs and getting paid. Harris learned how to develop a friendship beyond the business mindset. 
Today, Harris, who is considering the Economics & Business Analytics major, is taking many of the same ideas he learned pet-sitting and is using them to create his own athleisure clothing company. He is making a blog where he plans to present his research on clothing material and fitness techniques. He intends to name his business, Informed Athletics, and have his blog ready for posting in the next few weeks. This summer, he plans to experiment with clothing samples among himself and friends. 
Growing up, Harris always had an eye for business. From power washing, to lemonade stands, to rainbow loom bracelets, to pet sitting, he attempted to make an earning out of his enjoyments. "My dad would always make an effort to talk to me about how I could maybe make a business out of something I was doing," Harris said. 
Harris has a plethora of hobbies including metalworking, woodworking, electronics, coding, knife forging, and stock investing. He started amateur stock investing at thirteen years old, recognizing the significance of trial and error. "I learned from my dad and other people to … not be afraid to jump in on just a really small scale."
Harris' first step at trial and error with Informed Athletics is starting his business without social media. "The biggest thing with the blog design that's been difficult is just trying to find a niche for fitness information," Harris said. "Because if you Google fitness blogs, you'll be inundated with hundreds and hundreds [of other businesses' information]." The athleisure industry is rapidly increasing. It is "set to grow by 25% to $551 billion by 2025," according to Globaldata.com.
Harris believes that his customers need a relational connection with the business. Therefore, he plans on using search engine optimization in order to direct people's searches towards his own website, leading them to his research and products.
In order to build the online consumer connection, Harris wants to display initiative via his research while also providing customers with the information required to make an ideal decision on his final clothing product. He is working with another designer friend to create his logo.
By the end of the school year, Harris intends to establish his blog with a domain alongside completed analysis for his business. "It's going to be very research-based athletic information, whether that's supplementation, workout techniques, [or] workout products … [It will center] around nutrition and athletics," Harris said.  
Over the summer, Harris plans on experimenting with different clothing materials to incorporate into his samples. He is currently researching different fabric companies throughout Peru, India, and the U.S. to decide which material to use. He hopes to sample hoodies and graphic t-shirts this summer with a simple earth-toned style. The only graphic is his brand tag and a potential logo, either embroidered or printed onto the material.
Harris's main goal is to produce "a really high-quality piece of clothing that's not going to wear out if you wash it by hand, and it's soft and comfortable."
Harris loves working out, taking breaks from school, and having time to himself. Through Informed Athletics, Harris desires to show customers a solution to what is missing in athleisure today: top quality, reliable comfort clothing. "I like the idea of trying to find something that I enjoy and making it something where I can let other people enjoy what I enjoy too," Harris said. 
He explained that he is in the first steps of this business and has no clue how it will turn out. "It doesn't have to be successful to learn a bunch, to have more experience, to have a greater appreciation for things," Harris said.  His dad taught him that when faced with problems, the only way to find the strategy and solution is to ask and learn.
"You should never have this pride that you can somehow figure out something new all by yourself that no one else did. Because you can't," Harris said. "You can take small steps, and you can take careful steps, but I think most of all, it's important not to skimp on learning."