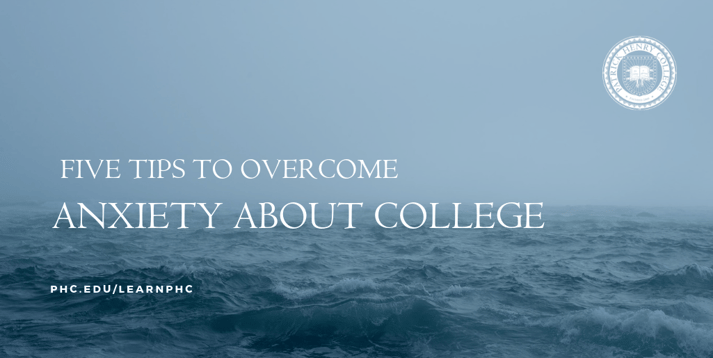 Senior year of high-school is supposed to be a time of coming-of-age and transition; it's a period of endings and new beginnings, and it usually means college is on the horizon. For some people, it's something they've been looking forward to for a long time. Maybe they've been thinking about college since they first heard about "application essays" and "admissions counselors" in middle school. For others, even thinking about the end of high school makes their hearts to pound a little harder.
Either way, college can be a source of anxiety and stress.

It's not easy putting everything you've done on a piece of paper and hoping that it looks good enough. There's also a lot of pressure to live up to expectations, both external and internal.

It all adds up to that queasy feeling that time's running out. Maybe you feel like if you can't be everything you hope to be before the deadline, you're just going to permanently live in that hole of uncertainty.

But that's the fear talking.

Here are five tips to confront uncertainty in the face of big end-of high school decisions.


1. Don't Forget to Pray
The Word of God is a bedrock—an unmoving and solid foundation to everyone who's hope is in the Lord. In Matthew 6:36, Jesus says: "Therefore, do not be anxious about tomorrow, for tomorrow will be anxious for itself. Sufficient for the day is its own trouble." The Lord knows the needs and the wants of his children. And while his plans are often a mystery, they can be trusted. Prayer may seem inconsequential tors in the moment, but for thousands of years, it has been the way Christians have brought their needs before their Heavenly Father. Don't overlook it!


2. Spend Some Time Alone
If you have a hard time processing or thinking about the future, take time to slow down and evaluate what's going on. Being honest with yourself can be hard, but going for walks or grabbing a cup of coffee by yourself can often provide moments of clarity that are hard to find elsewhere. Knowing what you think about your situation is important.


3. Spend Some Time With Others
While it's important to reflect, it's always a good idea to make sure the people around you know how best to support you in your decisions. Make sure you have a friend or two you can rely on to listen to your concerns. Sometimes a reassuring voice can quell unfounded fears or point out a way to approach a very-real problem. Make sure you communicate with your parents or mentors about what's important to you and what you'd hope to see in the next few years.


4. Focus On the Little Things
Submitting an application can seem overwhelming. It's easy to do too much or become paralyzed and do nothing at all. To keep perspective, focus on the little steps you can accomplish that bring you closer to your goal. Don't worry about step five if you're still on step one. It makes no difference if you've already applied for six colleges or haven't begun the process—it's still one step at a time either way. [Related Post: Practicing Attentiveness in a Metropolitan Environment]


5. Get Some Physical Exercise
According to the Harvard Journal of Health, physical activity helps lower the body's stress hormones such as cortisol and adrenaline. Stress can also lead to muscle tension and fatigue. By going on a jog or tossing a Frisbee, you can mitigate these symptoms and focus on what still needs to get done. [Related Post: Embodied Souls Working Out]

Closing a Chapter, Opening a New One
If you're at the end of your high school journey, you're in some of the most formative years of your life, and yes—that is good reason for caution and concern. Choices you make now will probably stick around for a while and change is coming one way or another.

You've got this!

If you'd like to talk to someone about your concerns about college or talk to a student at Patrick Henry College, feel free to call the office of admissions here at 888.338.1776 or email them at admissions@phc.edu. You can also click here to find more about PHC's high-school resource guide!
-----
Learn how PHC stands apart from other Christian liberal arts programs.
Patrick Henry College exists to glorify God by challenging the status quo in higher education, lifting high both faith and reason within a rigorous academic environment; thereby preserving for posterity the ideals be
hind the "noble experiment in ordered liberty" that is the foundation of America.