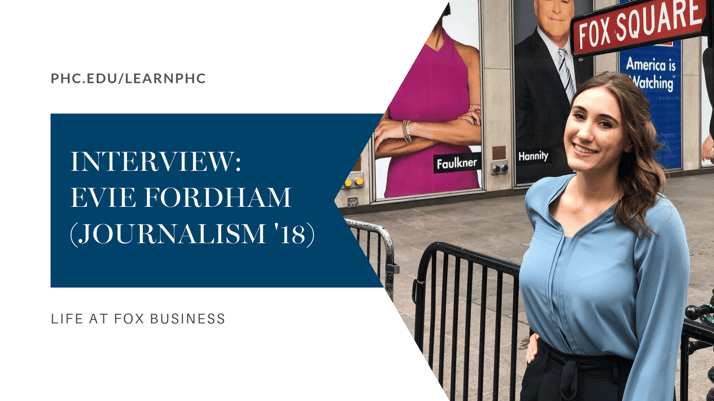 Journalism alumna Evie Fordham took a job with the Daily Caller News Foundation in June 2018, finished classes and graduated from PHC in December, and began a new job with FOX Business in August. We sat down with her to discuss her new position.
Q: What have you been up to since joining the FOX team in August?
I'm [working as] a breaking news and politics reporter at FOXBusiness.com! It's a really exciting job, and having a large platform like FOX opens up a lot of doors to get to talk to really interesting people. I have gotten to talk to experts from fields as diverse as the auto industry to health and wellness—and I've been able to learn from employees in those fields too. A lot of my favorite stories I've written for FOX Business have centered on politics, so it has been a relatively smooth transition from my time writing about politics at The Daily Caller!
Q: What's your favorite part of the new job?
Journalists are crazy people. We have a love-hate relationship with getting up early or staying up late just to get a story done. I'm surrounded by hardworking, knowledgeable colleagues who love what they do, so that's a win-win.
Q: What lessons have you learned from working in the newsroom?
Own your mistakes! Your boss is relying on you, even if you feel like you're starting at the bottom of the totem pole. I'd say I learned you have to be upfront when you make mistakes and ask your superiors how you can do better the next time. I've had a few experiences like that, and the silver lining is my editor would tell me they weren't focusing on my mistake but the fact that I immediately want to know how I can improve.
Q: What lessons did you learn at PHC that are helping you where you are now?
Dr. Sillars really instills the basics of knowing the elements of a good story and the purpose of journalism — honoring God's truth and serving your readers. These are principles that come back to me time and again In our crazy viral news cycle.
Q: Do you have any advice for students thinking about future jobs?
I recommend breaking into the world of internships as early as possible. Start looking at opportunities where you can do more than fetch coffee or copy papers in your area during your freshman year. I think a mistake a lot of people make is turning down or not applying for an internship because it doesn't perfectly fit into a life path they see for themselves. I was tempted to do that with an internship my freshman year working in state government in communications, but there were a million reasons why it was the perfect gig for me at that time. If an opportunity presents itself to you, seize it.
---
Click below to learn about the tracks in the Journalism major —Political, Classical Liberal Arts, and Entrepreneurship: