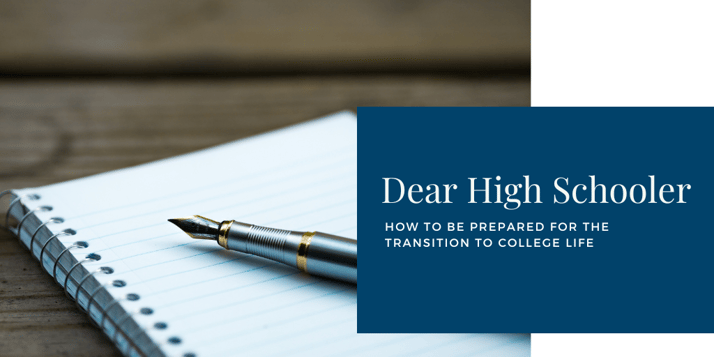 I remember how excited I was as I began to consider what college I wished to attend to pursue my undergraduate degree. It is no easy task! For one, I was bombarded with emails from various colleges after I took the SAT for the first time, and felt a bit overwhelmed by the process itself. But more importantly, it made it difficult to prepare for college mentally, socially, and spiritually.
Of course, I was well prepared for the rigorous academic strength and I knew how to study. What I didn't know, however, is how much the college experience shapes how you view everything from relationships, community, time, and, especially at PHC, God.
Here is some advice from college students to high school students as they prepare to take the next step in their academic, social, and spiritual growth!
1. Make time for what really matters.
Academic success is important, but there is more to life (even college life) than maintaining your GPA. You might be thinking, "Wait, isn't that why I go to college? Isn't my job right now to be a student?" Yes and no. There is more to life than studying for an exam. Think of college as the testing ground to the wonderful (and scary) journey toward adulthood. It is a safe place to begin making decisions for yourself and to learn how to manage your time wisely. When asked for advice for high school students, then-student Blake Toman (Journalism '20) said, "Be prepared to spend fewer hours studying because you took a once-in-a-lifetime day trip to New York City with your friends."
Sometimes you may feel like you can't set aside the time to talk with a friend who is having a difficult time, or you don't have time to go out to dinner with a group. In my own experience, God always redeems the time. Plus, once you learn to manage the workload (which will take some time!), these decisions will become easier.
You might ask, "How do I determine what really matters? What if it all matters to me?" Think about your tasks in light of eternity. Ask yourself, "If I had 48 hours before I die, what would I want to do?" This simple question will completely shift your perspective, and your to-do list will look quite different. Now, I am not saying that we should throw off all responsibilities and live like there is no tomorrow. Instead, I am encouraging you to assess those daily, sometimes monotonous, tasks and weigh them against eternity. Is an A+ on a paper more valuable than helping a friend through a difficult time?
2. Learn to step outside your comfort zone and stretch your limits – both academically, socially, and spiritually.
College life is anything but conformable. It is filled with exciting new adventures, new friends, and new challenges. Then-sophomore Ellen (Reynolds) Purnell (Journalism '21) said: "I used to hate walking into the dining hall by myself because I was worried that none of my friends would be there to sit with...and now I realize those times are great opportunities to sit down and get to know someone you don't often talk to!"
You will be asked to broaden your horizons, consider other people's opinions, and see all sides of the story. You will even be led to question your own beliefs for the purpose of teaching you how to give an answer for that which you believe.
Want to get a head start? Get our Worldview Book list here:
3. Learn to have an outward focus.
At college, it is easy to think of yourself as a one-person show, focusing on yourself, your grades, and your appearance. You might even have a bit of tunnel vision, focused on getting a good education, finding a great career, developing life-long friendships, and growing personally. Those things will happen, but not as exponentially or as successfully if you turn your focus on others.
Reynolds said that she would tell her high school self to "take the focus off of myself and the impression I wanted to make, and just to focus on loving people fully at the moment you're given."
While you shouldn't completely neglect yourself, there is something very refreshing when you give of yourself to others. We are all made in the image of God, and, as C.S. Lewis wrote in The Weight of Glory:
"It is a serious thing to live in a society of possible gods and goddesses … All day long we are, in some degree helping each other to one or the other of these destinations [Heaven or Hell]. It is in the light of these overwhelming possibilities, it is with the awe and the circumspection proper to them, that we should conduct all of our dealings with one another, all friendships, all loves, all play, all politics. There are no ordinary people. You have never talked to a mere mortal."
By learning to love God better, we also discover how to love each other in a Christlike way. Every encounter you have on campus, be it in the classroom, in the dining hall, or walking to the next class, is an event that will shape that person's journey to either Heaven or Hell. Practically, this means stopping to pray over someone who is struggling, offering to study with someone for an upcoming exam, sending an encouraging text or note, or simply being present with someone, completely undistracted by devices or the surrounding chaos.
4. Learn to have a posture of thankfulness in both the good times and the hard times.
As a college student, you will have good days and hard days. There will be days where you are exhausted and running on caffeine, and days where you feel like you can't go one day more. In those moments, seek the Lord. Find a small thing to be grateful for – maybe it's the smile of a friend, the rain, a sweet moment with a friend, or a quiet moment in between classes. There is always for which you can be grateful!
Alumna Susanna Hoffman (Journalism '20) wrote, "My takeaway from the good times has been that the Lord really does delight in giving good gifts to his children - relish those moments. And my lesson from the challenging times has been to never let those gifts and good times usurp Christ as the foundation on which I place my trust and security. So, as they draw you closer to depend on Christ, cherish the rough days too."
---
Patrick Henry College exists to glorify God by challenging the status quo in higher education, lifting high both faith and reason within a rigorous academic environment; thereby preserving for posterity the ideals behind the "noble experiment in ordered liberty" that is the foundation of America.