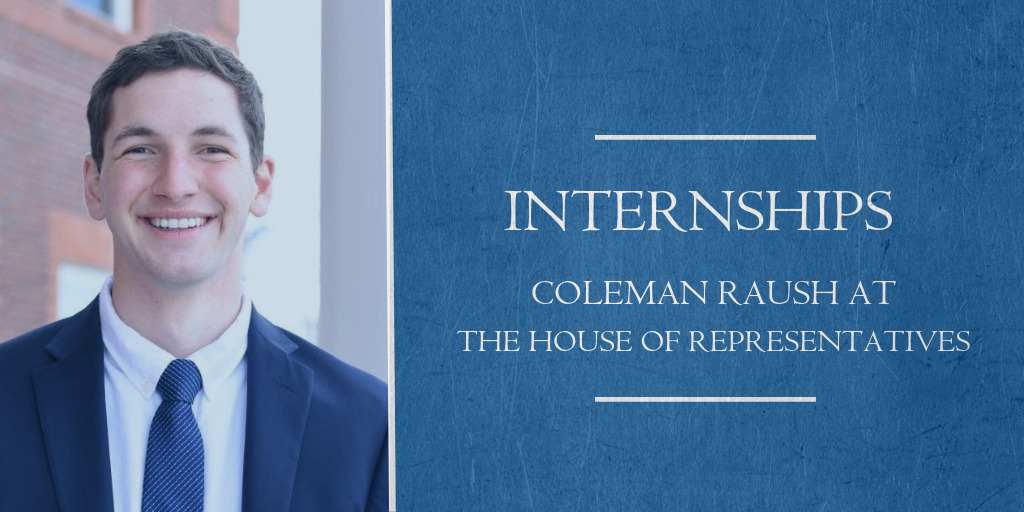 A suit might have a lot of small pockets, but by all practical standards, it doesn't carry much. So without a backpack or a briefcase, all Coleman Raush took with him on his first day interning with House Representative Lloyd Smucker in Washington D.C., was his wallet, his phone, and 20 years of preparation.
So much of his life up to this point had been preparing for the next step. The first day of high school, all those pesky SAT practice tests, trying to find a summer job, fretting over college application essays—they had all at one point or another been the road to the next big thing.
And now here he was, strolling down the street of Washington D.C. two blocks from the Capital Building. He couldn't help but wonder if he had done enough to make good on the opportunity in front of him.
Was he prepared?
It's a question that a lot of Patrick Henry College students ask themselves at some point. Like Raush, all students at PHC participate in some form of internship related to their major; it ensures they've been trained and prepared for the workforce. As a result, many students devote lot of effort trying to find an internship that will suit their needs and open doors for the future.
Raush's journey towards an internship started back at home in Pennsylvania when he interned at the Representative District office of Lancaster County. There he met and built connections with the people he met in the district office and eventually applied for the D.C. internship with the district representative, Smucker. After two interviews over Skype and a bit of waiting, Raush received notice that he would be spending his summer working on the Hill.
For a sophomore studying government, this was exactly the kind of opportunity that he could turn into future opportunities. But then again, he had to get through it first.
As part of this internship, he would be expected to lead tours of the Capital business, interact with congressmen and staffers, attend and take notes on committee meetings, and do research for the congressman.
Easy, right?
Well, Raush knew that even after several online reading sessions, his knowledge of the Capitol building was by no means exhaustive and honestly, the congressman could have him research something so random and obscure that even Google might not have all the answers.
Despite his uncertainty, Raush had a couple of things going for him. For one, he's a student at Patrick Henry College, a school with an excellent reputation in the workforce in Washington D.C. and an even better set of connections. So far, his four semesters at PHC and the core curriculum had provided him a wide range of skills. In no uncertain terms, he knew he could write a twenty-page paper, deliver presentations, and speak—even debate—in public.
For another, Raush could rest assured that his 'next step' was in better hands than just his own. No matter how prepared on un-prepared he was, Raush was reminded that God has his back.
As he continued on towards the Capitol, he passed by the imposing building of the Library of Congress. If you've never seen it before, it's quite impressive. It's a massive structure with white pillars and tall, narrow windows. The bronze figure of Neptune, Roman god of the sea, makes the fountain in front of the library his home.
Despite the building's magnificence, it was the handful of floral decorations on the side of the building that caught Raush's eye.
Since the age of 11 he Raush worked as a flower vender back at home. Selling and caring for flowers was something he knew he could do, something that had done for years. But at some point, that too had been a new, unfamiliar task. This was no different. In the face of yet another "next step," Raush knew it was ultimately up to The Potter to make this internship a success. And he was going to give it his best shot.
Click here to learn more about internships at Patrick Henry College!
-------------------------
Patrick Henry is committed to high academic rigor, fidelity to the spirit of the American founding, and an unwavering biblical worldview. Read more below...