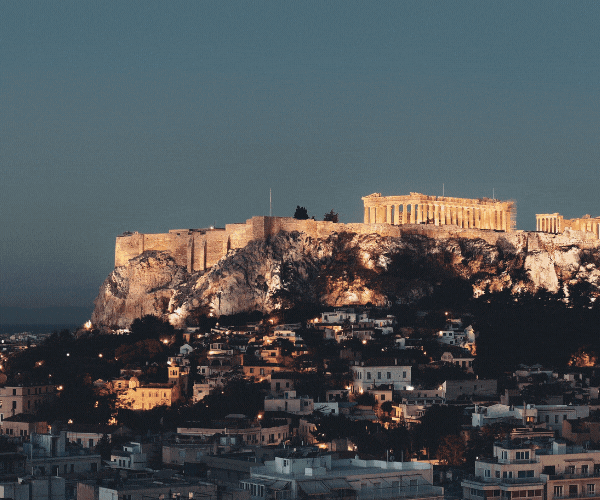 What is the true purpose of college? Preparing for a job or flourishing as a human? You can quickly see where we land on this. But there is a scarcity of true, Christian liberal arts programs in America and it's no hyperbole to say that the result is catastrophic.
What happens when the liberal arts college loses its commitment to a rich, broad-based "general education"—or "core?" By way of illustration, consider the importance of teaching—or not teaching— U.S. History in the college classroom. According to the research by our friends at ACTA,
Well-designed core academic requirements help to cultivate a sense of shared civic vision—by requiring all graduates to gain a basic understanding of the country's Founding principles, history, and political institutions. But today, only 18% of colleges and universities require a foundational survey course in U.S. government or history. And the danger to our democratic republic is real.
The subject areas of U.S. Government and History are not the only casualties. The form of education that our founding fathers received is dying.
Only 58% of liberal arts colleges require a collegiate-level mathematics course
Only 32% of liberal arts colleges require a course in literature
Only 12% require students to demonstrate intermediate-level proficiency in a foreign language. ¿Verdad? ¿Cómo puede ser esto?
Our focus in this pair of posts is on the virtues of the "liberal arts." Much ink has already been spilled developing the focus on the "Christian" foundation to all of learning at PHC—a focus that is imperative and integral to a true education, full stop.
Patrick Henry College may have the largest classical core curriculum in the nation and here's why.
A 63-credit core curriculum, packed with biblical studies, oratory, and writing skills, is required for all students who pass through the PHC paces. You might be surprised—or maybe you already know this—but here's why Patrick Henry's 63-credit core is both necessary and important in raising national leaders: the purpose of college is about values and principles far more than the transfer of information. College is about human flourishing more than preparing for a job.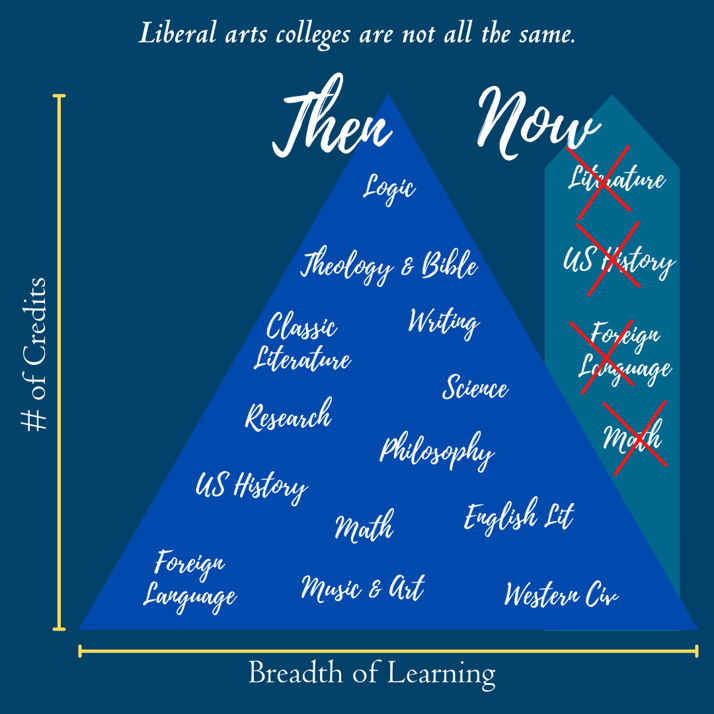 If you were to idly scroll through any public institution's "general education"—or core curriculum—you would notice that most liberal arts colleges require between 20 and 40 core credits. Sifting through the core credits, students can cherry pick from a wide selection like a grocery list—this one looks easy, this one allows me to sleep in, this one looks interesting, I just need one more class on Tuesdays.
In the university today, students can select core courses such as The American Vacation, The History of Surfing, Lady Gaga and the Sociology of Fame, and practical courses on Tree Climbing, Getting Dressed, How to Watch TV, and Eating Animals in America: Historical and Philosophical Perspectives. Some of those sound interesting. One might graduate clutching a business degree with a very niche knowledge of Women and Texan Music to pull out at parties.

ACTA president, Dr. Michael Poliakoff, says this in the forward of What Will They Learn:
According to a recent Pew Research Center study, more than one-third of adults aged 18–29, a higher proportion than any other age group, say there are other countries that are better than the U.S. Young people are also far less likely to answer that it is "essential" to live in a country that is "governed democratically."
Patrick Henry College faculty impart skills to students so that they may meaningfully contribute to the world around them through a well-rounded education. Cultivating students' abilities to think quickly, act with integrity, and embrace challenging situations from a wealth of relevant knowledge is what makes a classical liberal arts education so valuable.
There is no electivity in the core, which means that professors in the upper level programs can know what their students have already been exposed to—what books they have read, what subjects they have studied, what skills they have developed—so that learning can build on a common foundation.
PHC's Philosophy of Education
The broad and rich education that has gone missing in the past 150 years offers an understanding of Western Civilization and American society, and the implications of our current cultural context. The 63-credit core—only available at PHC—is essential because a broad and rich understanding of all disciplines is the key to thinking critically, and seeing the world clearly. Click the link below to explore what makes PHC stand apart from other colleges and go here for part two of "Have Liberal Arts Colleges Lost Their Soul?"