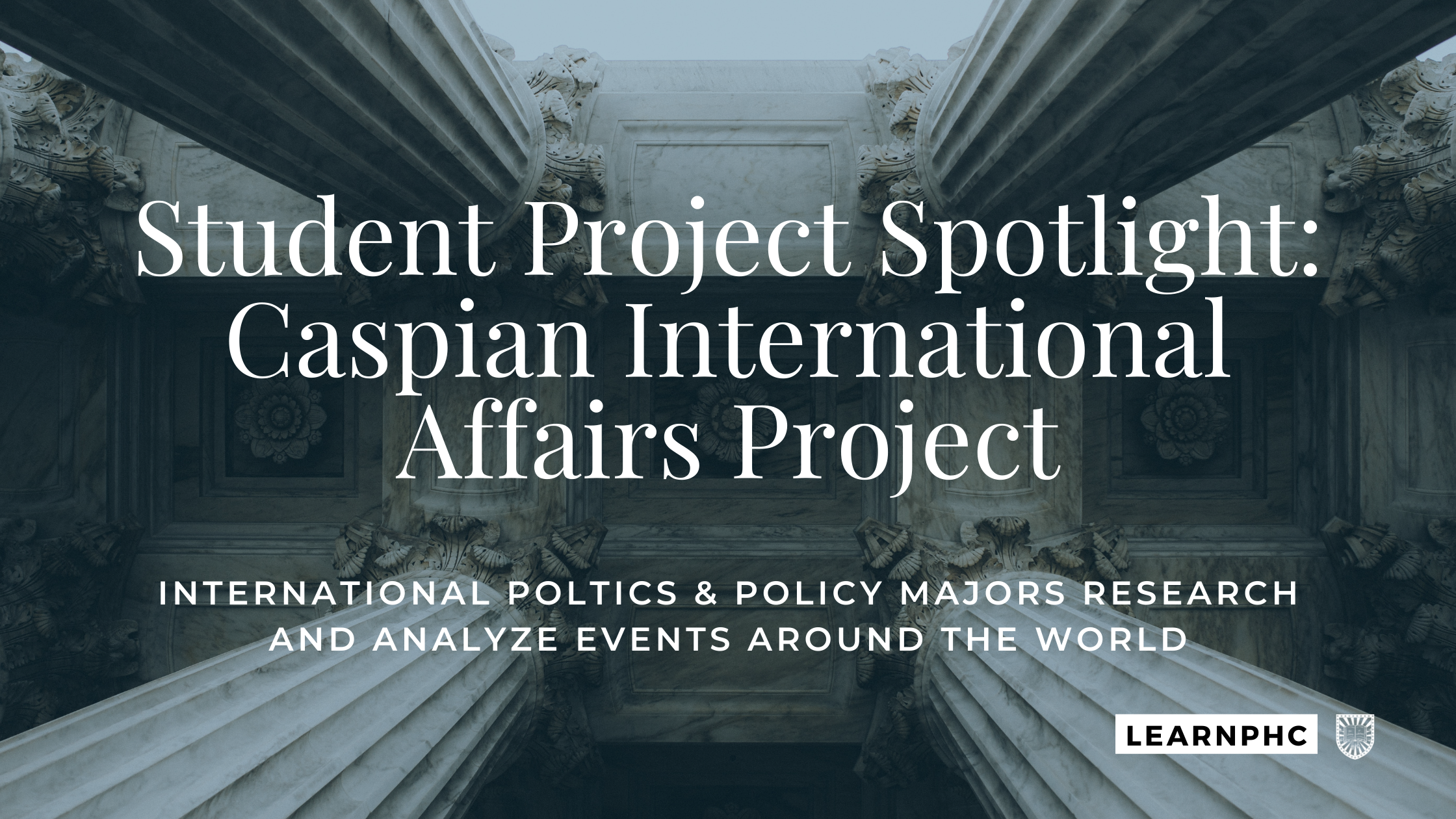 Every student at Patrick Henry College has the opportunity to create change on campus and learn to lead. Many campus activities are student-run, from swim clubs to dance lessons to worship nights to published journals. The campus's smaller size allows students with initiative to spearhead projects and make a tangible difference in the community.
Over the past two years, a team of students majoring in Government and specializing in the International Politics & Policy track (IPP) have put together the Caspian International Affairs Project, a student-run initiative focused on publishing the work of IPP students.
"[We wanted] to help students get published and give them an opportunity to write on international affairs," said junior Ellen Fischer, the project's editor-in-chief.
The project is two-fold. The team publishes content online at the Caspian Project and in print through the John Jay Journal of International Affairs. The first issue of the journal was published at the beginning of 2022 and featured in-depth research on the European Union's growing disillusionment with China, the United Nations' peacekeeping failures, and Germany's dependence on Russian energy exports. The John Jay Journal is the new face of PHC's previous IPP publication, the Journal of International Social Affairs.
The Caspian Project's online component is focused on current international developments. It contains shorter pieces on topics like the future of the UK's national health service, President Biden's response to global supply chain issues, and the forecasting of Sino-American conflicts.
Fischer said she spent most of last winter break designing the journal and organizing authors, papers, and documents. Now, she's working to publish another issue of the journal at the end of this semester. Fischer is passionate about her area of study because she grew up going on mission trips and working with political campaigns.
"I thought, 'Missions? Politics? How can those go hand-in-hand?'" she said. "The Lord was like, 'The international world, Ellie, it's wide open.'"
While some students study IPP to prepare for foreign diplomacy, others study it to prepare for the mission field. Whatever their future, the Caspian Project gives students an opportunity to dig deep into international affairs and learn more about the world surrounding them.
------
Interested in studying abroad in college? Click below to learn about PHC's Global Studies & Service semester.