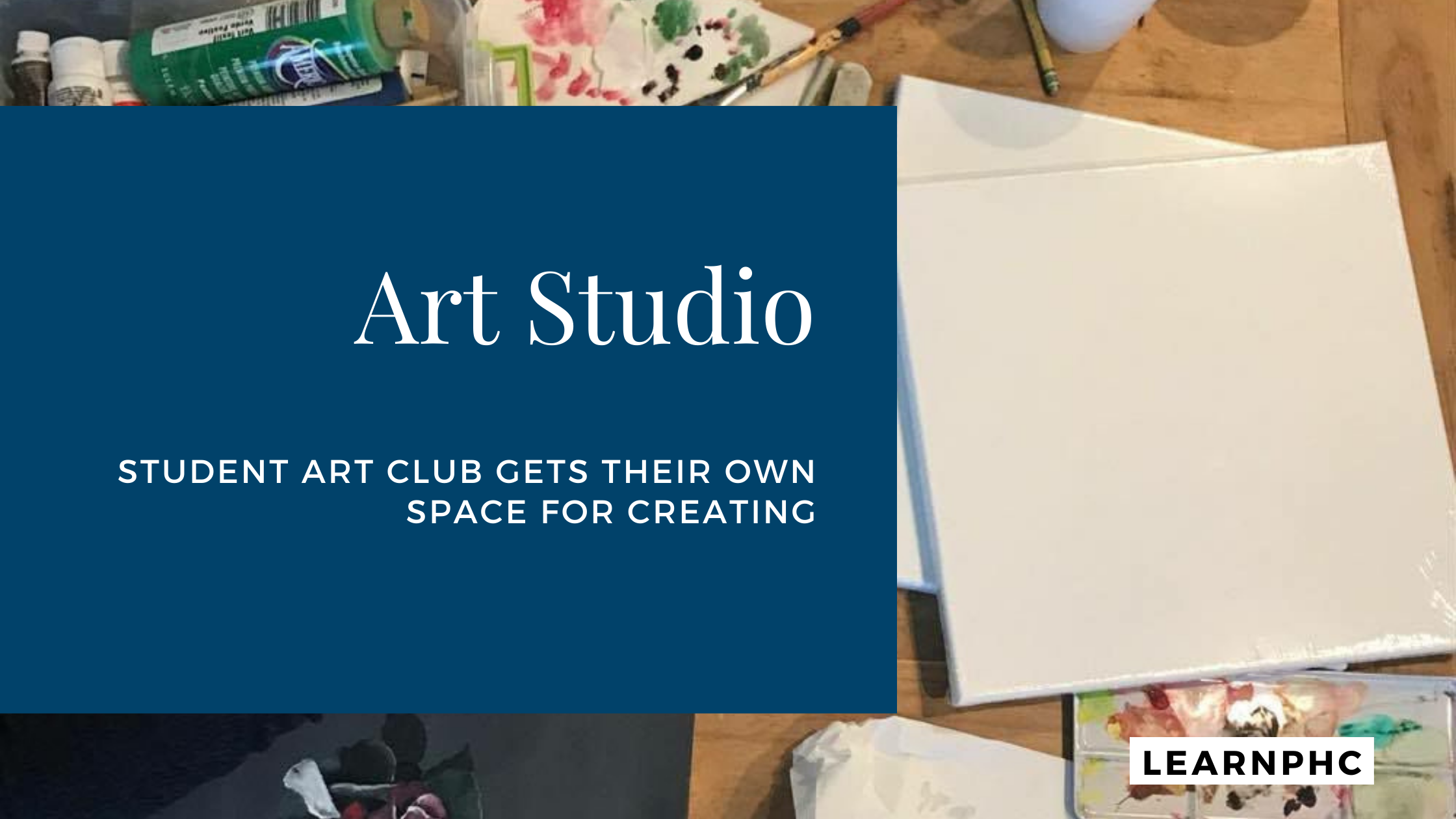 Three students sit at a table that's almost too big for the room in the basement of the Barbara Hodel Center. Brushes, paints, and colored pencils are laid out across the table for them all to share. Freshman Hope Thompson is painting a field at sunset; she's using a bristled brush to add texture to the green grass and lavender sky. She's intensely focused, but a faint smile flickers across her face as she listens to Elizabeth Brown and Caitlin Banks talk while they work on their own creations. Landscape art hangs on the walls.
The Art Society, one of campus's many student clubs, has been a part of PHC for years. A small group of students meet once a week to create and discuss art. Until this semester, they used whatever space was best available to them.
"[Freshman] Hannah Bruck met with some student senators to talk about purchasing art supplies for the student lounge," junior Elyse Burgess said. The club had met in the student lounge for the past couple of semesters. The Student Senate passed a bill that would allow them to purchase supplies with school money, but Dean Sandra Corbitt intervened, explaining that the supplies could damage the carpet if people accidentally stepped on them. Corbitt and Student Body President Ethan Snider came up with another idea: convert an unused office on the lower level of Hodel into an art room.
"It's been super awesome for the Art Society to have a place to call home," Burgess said. The club regularly holds meetings there on Sunday afternoons when people get back from church, although Burgess said that might change.
"It's so nice to have a dedicated space with supplies," sophomore Elizabeth Brown noted. The student lounge had a lot of traffic from students outside the club passing through. Everyone also had to bring their own supplies. The new space has a supply closet, so the only thing people usually bring is paper. She said they still get some excess traffic, but not to the same extent they did when they were upstairs.
"It's great to have people to talk about art with," Brown said. She likes the shared space because she feels it's a great way for the students to offer encouragement to each other.
"It's a good time to devote to art," Burgess said. She doodles in notebooks but said it's hard for her to devote time to bigger projects. The Art Society helps with that. Like Brown, Burgess values the community created by the club. It brings artists together and has helped her make new friends.
Burgess is the unofficial leader of the club. She reaches out to other students to plan meetings and has been the most regular attendee since her freshman year.
"I've had bigger plans for the Art Society for a while," Burgess said. She wants to do a Bob Ross paint-along that would welcome both artists and non-artists, although she said they would need funds for more art supplies in order to do that. When the weather warms up, Burgess will try to organize an event outside where students could paint what they see in nature.
"I would really like to give Art Society longevity before I graduate," Burgess said. She said that the current freshman class has a lot of talent, and she hopes that they will keep up with the club after she's gone. "Art Society will always have a presence on campus as long as there are people dedicated to it," she said.