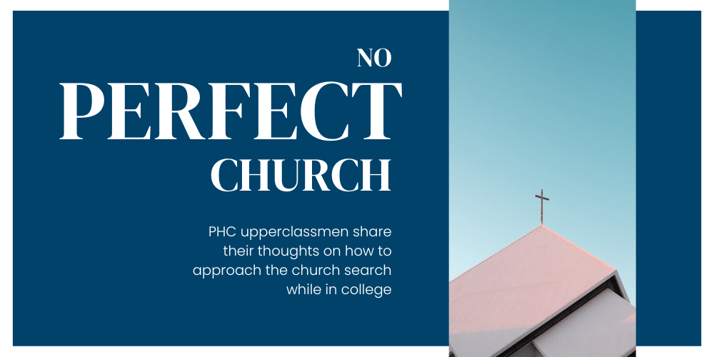 It can be a challenge for freshmen college students to find a church to call home for their next eight semesters. Paul writes in Hebrews 10:25 that Christians should regularly come together in a group setting. If a Christian isn't sure what to look for in a church, however, the new college environment can make the search even more difficult.
"I think one of the most important things to remember is that God calls us to be in fellowship with others," senior Gentry Shannon said. "Passages in the New Testament clearly presume membership to some sort of body. Matthew 18:15-17 and 1 Corinthians 5:4-5 are two examples of that."
Shannon said students should examine a church's theology before joining a church but realize that a perfect fit is unlikely. Such a goal is self-focused. "Involvement in a church body should be about serving God's people and growing closer to Him thorough reproof and discipleship," she said, "not being served by the quality of the worship music or the liveliness of the young adult ministry."
"The criteria by which we measure a church should not be based on our own human understanding but rather on an understanding of Scripture," senior Michael Virts said. "By bringing Scripture into the equation, we can take the focus away from ourselves and focus on finding a church that lines up closely with Scripture." Shifting the focus away from how a church will fit a believer's own needs will help the believer to find a godly church, he said.
"There is no perfect church," senior Beth Whitehead said. "No church is, in your eyes, going to meet all your needs." She suggested asking this question: "Do they [the church] see God the same way you do, or do they challenge the way you see the Lord, and are you convicted by it?"
Although Whitehead believes a Christian can always find something he doesn't like about a church, attending on Sunday mornings should be a joy, not a chore. "Don't go to a church you don't want to go to," she added.
Whitehead has attended Hamilton Baptist Church since her freshman year. She and some of her friends visited it after briefly church hopping. She said the pastor did not teach to the "good Christian," but instead "to the wanderer in my soul." Her experience at Hamilton helped her grow closer to Christ and mature as a person in Him.
"Compared to most PHC students, my situation might be slightly different because I grew up in the Loudoun County area," Virts said. He is more familiar with churches in the area, but he did not attend one consistently in high school. "I never found a place that I felt called to stay at," he said.
Immediately before his first semester at PHC, Virts began attending Cornerstone Chapel. "I was drawn in by Pastor Gary Hamrick's pastoral style," he said. "His sense of humor and tone of voice made him a captivating speaker, and his knowledge of Scripture and appreciation for the history and story of the Bible made him an enriching speaker to listen to."
Shannon attended Trinity in early 2021 after she heard about it from a group of PHC students. She had been attending Hamilton and said the church still holds a place in her heart. "After learning a bit more about church membership from the Trinity pastors, I think I'm fairly convinced that there's not necessarily one 'right' church where God wants me to be right now, but rather that His calling is that we be an active member of some church body," Shannon said. "It's less about where you attend and more about how intentional you are, no matter where that is."
"I think the first and most important thing, something I neglected for far too long, is to become an official church member rather than just an attendee," Shannon said. Going into college, she decided not to become a member since she would only be able to attend for six months of the year. "I've recently felt very convicted about my failure to pursue membership and so have started doing so at Trinity. I believe membership will contribute greatly to spiritual growth, provide accountability, and present regular opportunities to serve."
"Becoming involved as a church member can look extremely different depending on the size of the church," Virts said. He said at smaller churches, it's easier to get connected to people on an individual level. You can get connected just through introducing yourself. With larger churches, Virts said, seeking out volunteer opportunities, such as auditioning for the worship team, is a quick and proactive way to connect with the community.
Whitehead said her advice to freshmen specifically is to talk to upperclassmen about carpooling. "Upperclassmen tend to have cars," she said. She also added that they tend to know who is attending what church and who has a car to take people.
"Get plugged in super-fast," Whitehead said. She recently got involved with the youth ministry and wishes she had been helping with it sooner. She said most churches have either volunteer days or handouts that point to the different needs of the church. "Don't wait for opportunities to be handed to you," she said.
This article was originally published in PHC's student-run newspaper, The Herald.
----