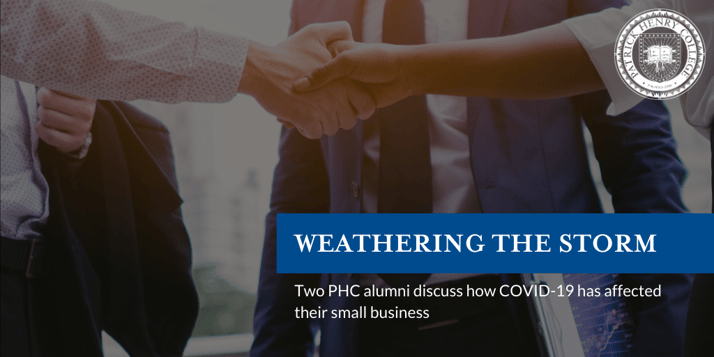 Patrick Henry College alumni Jonathan ('10) and Rebecca Horton ('13) are some of many small business owners searching for creative solutions to help their business stay afloat during the current lull in the market.
The Hortons' business consulting firm Ingenium seeks to provide financial, administrative, and marketing services for businesses who want to grow and improve. After COVID-19 hit, their services have become more and more important for helping small businesses survive both in their local community of Winchester, VA and abroad.
As political theory majors, Jonathan and Rebecca have found that their classical liberal arts education at PHC has given them the tools necessary to find inventive solutions that benefit their business and allow them to help others.
Their Story
After graduating from PHC, Jonathan worked in politics for three years and then spent over four years in business administration. Rebecca worked as a government contractor and gained experience in marketing. In anticipation of their second child, she switched to freelance web design.
They both realized that many small business owners are passionate but don't know how make their business flourish. In 2017, Jonathan and Rebecca took his financial expertise and her marketing know-how to create their own business consulting firm. Ingenium officially launched in January 2018.
"[Ingenium is] a holistic approach to solving business problems," Rebecca said. The trio of financial, administrative and marketing "are constantly talking to each other. [Together, they create for business owners] a really good understanding of business problems, and they can help identify where the real pain points are in a business and help [the business owners] fix them."
The Hortons serve all different types of businesses from non-profits to local wholesalers. "We service specific types of people who own all kinds of different businesses," Jonathan said. "It's a personality and a mindset," Rebecca added.
Weathering the Storm
Jonathan and Rebecca were able to utilize the Paycheck Protection Program (PPP) to get essential funds not only for their own business, but also for their clients. "We started gathering that data probably about a week before the banks started opening up," Rebecca said.
They had experience with law from their time at PHC (Rebecca competed in Moot Court, and both competed in Mock Trial). They were able to read the CARES Act and get ready for when the lines opened.
"We filed for ourselves pretty much right away, and then we were able to take that experience and replicate it over and over for other clients," Jonathan said. They worked hard to call clients and help them through the process to get as many businesses qualified as possible.
They were able to help most of their clients obtain funding during the first round, and since then they have been focused on qualifying everyone for loan forgiveness. "We got 10 clients through with just shy of 1.3 million dollars combined in funding," he said.
"For all of our clients, it's been necessary to help keep them going right now," according to Rebecca. "The money I helped them bring in, for a lot of them, is 10% or more of what their annual revenue will be this year," Jonathan said. He believes that the PPP funds saved some of their client's businesses from closing permanently.
"Stronger Than Ever"
"Things have been still pretty lean for us," Jonathan said. While business is down on the sales side, Ingenium remains afloat. Jonathan and Rebecca are taking this opportunity to reevaluate their approach and see how they can improve.
"We're working hard to try to grow through this," Jonathan said. "We're trying to stir up business as much as we can to try to come out of this stronger than ever."
Jonathan encourages other small businesses to look introspectively as well and ask themselves how they can improve their service and grow. Rebecca recommends that businesses "use the payroll money to start paying people not to do the work of the company but work on the company."
Human Flourishing in a Time of Crisis
The Hortons have hired several PHC alumni spanning from 2005 graduates to 2019 graduates, in addition to helping alumni owned businesses. "We span the entire history of PHC," Rebecca said.
For her, the classical mentality of understanding something's parts as a way to understand the whole is "the exact way that we approach marketing." They focus on helping people meet their needs in the best way possible.
"Being a theory major helps you understand how people think and also what it takes for true human flourishing," Rebecca said. The classical and Christian philosophical foundation that they gained from PHC has been instrumental in running their business.
"That's what we're trying to produce in a business organization… We want people to flourish," Jonathan said. A big part of inspiring sustainable growth is understanding the business itself. "Every business expert will tell you that if the people are flourishing, the business will flourish, too," Rebecca said.
"Our PHC education has given us the foundation to keep doing that, to continue evolving as people and as professionals and to address the needs around us in different ways over time," Jonathan said.
Rooted in Community
Ingenium has had close calls in the past, which has helped Jonathan and Rebecca have a positive outlook during times of hardship. "So this could be like, near death experience number three, but we've been here before, we're not going to panic and we're going to do the best that we can," Jonathan said.
They found that community outreach has become even more important. "If we can all get through this together, we'll be fine," Jonathan said. They are currently working to find ways to provide their community with resources that make businesses feel safe.
"In our community there's been a renewed sense of connection in relationships among businesses," Rebecca said. While they have clients in other states, they are primarily working to unite their local community and foster growth. "Our PHC education really primed us to be community focused and prioritize the local community," Jonathan said.
______