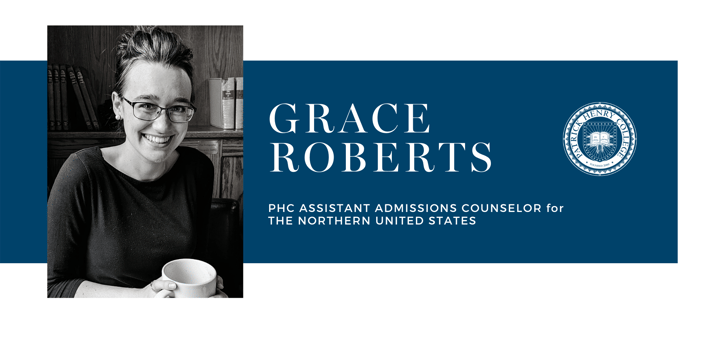 When Grace Roberts leaves a voicemail in admissions, she always starts her messages with the same turn of phrase.
"Hi! This is Grace calling from Patrick Henry College and I just wanted to touch base with you…"
The rest of the message might be about an ongoing application, an invitation to a PHC Open House, or a myriad of other things the Admissions team regularly makes calls about.
Even though it's just a recording, it's important to Roberts that whoever is on the other side of that answering machine understands she's there to be a real person offering real help.
"I want people to understand that I'm not some random admission counselor from a stuffy office," Roberts said. "I'm a student who is here wanting to help you and check in on you and see what's up and see if you need help with your application—or whatever the issue is."
So yeah," Roberts said, leaning back in her office chair, "I just wanted to check in on you."
Roberts has been around the Patrick Henry College community for eight years now. She first attended teen camps back in high school. Then she became an applicant. Then she became a teen camps counselor. Now, she's a Patrick Henry College Assistant Admissions Counselor to the Northern United States.
If you're considering PHC as a college choice, she's been in your shoes.
Some of the high school students she's helping through the application process have also been teen campers that were under her care during the summer. For her, the journey from high school to PHC is one she's very familiar with. She feels a great deal of empathy for concerns and worries they express about that process.
"Everyone's story is different. I love getting to hear applicant stories. You have some who know they want to come to PHC and have put their eggs in this one basket and then others who say 'I don't actually know if PHC is for me' and I get that."
Robert's job is to help applicants figure that out. She's there to be able to answer questions about whether students might be a good fit in the community at Patrick Henry College.
To learn more about the Admission's Team at Patrick Henry College, click below!