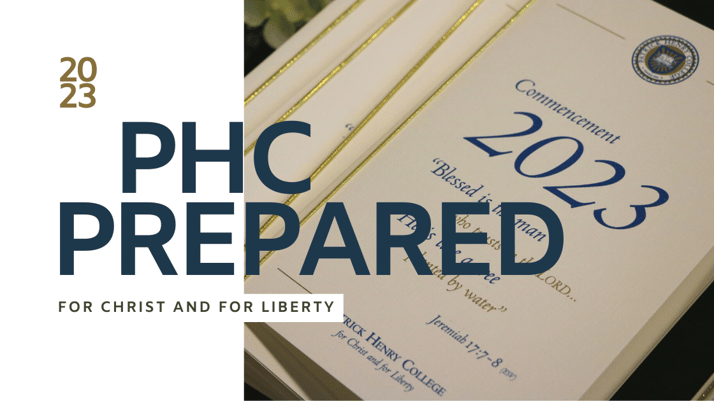 Charity Kim took a deep breath and stepped up to the platform to face her fellow classmates, PHC professors, and her friends and family. The graduating senior in the Class of 2023 read from Psalm 19 to begin her commencement remarks.
Her speech recounted the memories shared by her class, from the universally awkward transition to business casual dress, to slowly making lifetime friends in dining hall and the dorms, to navigating coursework and bonding over difficult assignments. These graduating seniors had come to the end of their four years as PHC students, and everything culminated in the celebration on the picture-perfect Saturday morning in May 2023.
The commencing students of the Class of 2023 gathered at Patrick Henry College with their friends and family for the ceremony. Dr. Ben Carson, renowned pediatric neurosurgeon and PHC's 2023 Commencement speaker delivered a powerful address.

He congratulated the graduates, charging them to live by the godly principles of loving your neighbor and caring for those who can't care for themselves. He stressed the importance of "developing your God-given talents to the utmost so that you become valuable to the people around you and having values and principles that govern your life … If we do that," Dr. Carson said, "not only will we have a great nation, but we will have one nation, under God, indivisible, with liberty and justice for all."
As Dr. Carson said, preserving the spirit of the American founding is essential to preserving our nation. The mission of Patrick Henry College is to prepare Christian men and women who will lead our nation and shape our culture with timeless biblical values and fidelity to this spirit.
Every year, the graduation ceremony signifies the fulfillment of our educational mission. Although saying goodbye to our graduates can be difficult, we are confident that they will make significant contributions to their callings and vocations. We trust that God will guide them on their journeys and lead them towards amazing things.
The Class of 2023 had a unique experience, being the one that fully contained the COVID-19 era. Charity Kim spoke of that unique experience as a class, coming to PHC in the Fall of 2019 right before the pandemic, and only having another normal semester their senior year. But, she says, among her classmates, the consensus is that "as hard as the COVID years were, our class is the better for it." Isaac Winnes, in his Commencement remarks, echoed her sentiments, encouraging his classmates to follow "the way of simplicity and straightforwardness" even against the temptation to grow discouraged by the current times.
Patrick Henry College has full confidence in its graduates' ability to follow this mission and trusts each one's journey to our gracious God. He has been their guide through their four years here, and we have faith that He will continue to watch over them no matter where He takes them. Congratulations Class of 2023!