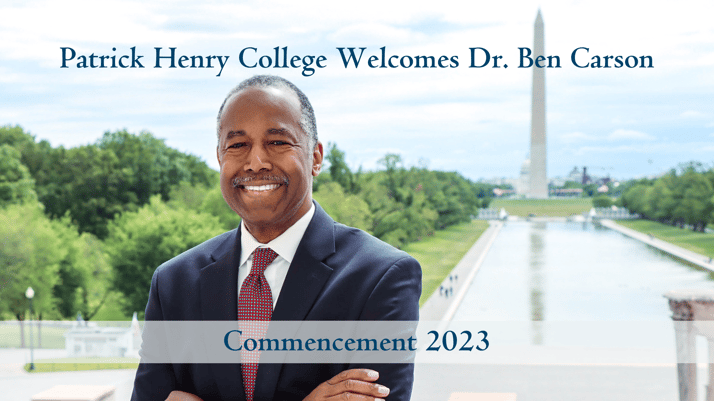 Patrick Henry College is pleased to announce that renowned pediatric neurosurgeon Dr. Ben Carson will deliver the Commencement Address for the PHC Class of 2023!
Dr. Carson's Journey
For nearly 30 years, Dr. Benjamin S. Carson, Sr., M.D., served as Director of Pediatric Neurosurgery at the Johns Hopkins Children's Center, a position he assumed when he was just 33 years old, becoming the youngest major division director in the hospital's history.
Dr. Carson received dozens of honors and awards in recognition of his achievements including the Presidential Medal of Freedom by President George W. Bush in 2008, the nation's highest civilian honor. He is also a recipient of the Spingarn Medal, the highest honor bestowed by the National Association for the Advancement of Colored People (NAACP) and has been awarded over 70 honorary doctorate degrees. He is the author of numerous best-selling books, ran for President of the United States in 2016, and served as the 17th U.S. Secretary of Housing and Urban Development. The U.S. News Media Group and Harvard's Center for Public Leadership named him among "America's Best Leaders" in 2008.

Dr. Carson is very familiar with Patrick Henry College, having participated in the Newsmakers interview series with Dr. Marvin Olasky a decade ago; an interview that has since garnered nearly 98,000 views online. He has said that PHC "…is a great place with great students and tremendous values." We are honored to welcome him back to campus.

"Our goal at Patrick Henry College is to equip young leaders who will lead for the glory of God and the good of those who follow," says President Haye. "Dr. Carson embodies those principles as he continues to serve with both conviction and humility."
Dr. Carson Today
Dr. Carson is the Founder and Chairman of the American Cornerstone Institute, whose mission is to pursue common sense solutions that challenge conventional groupthink by promoting four founding principles of our country: faith, liberty, community, and respect for life. He is married to Candy Carson. Together they have 3 children and are proud grandparents as well.
Commencement Ceremony
Due to space considerations, the Commencement event is open to ticketed guests only and will be live streamed here on Saturday, May 6, at 11:00 a.m. from the Barbara Hodel Center.
_______________________
The unique fusion of three commitments sets Patrick Henry College apart from any other college in the world. PHC prepares its graduates to make an immediate and enduring impact for Christ and for liberty.