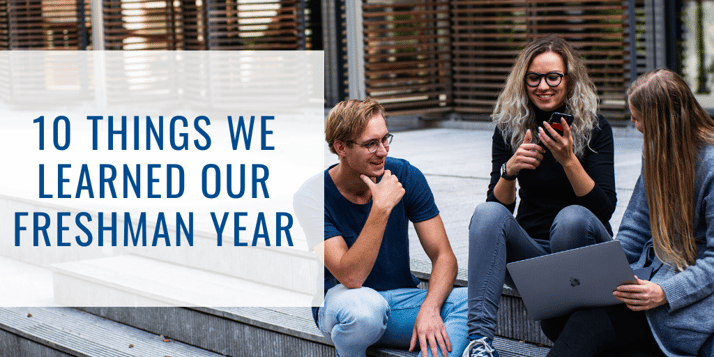 As I discussed the latest Favelo class and lamented the upcoming Spinney paper, I'm filled with memories of my own first year of school. There were things I wish I had known as a freshman, but fortunately for you, some members of the sophomore class and I are here to help you out.
1. Don't Get a Tray in the Dining Hall
"Nobody does that," Sequoia Poths said. "It's not cool."
Enough said.
2. Be Creative with Cafeteria Food
Create bacon cheese fries or Dijon mustard deviled eggs. Make fun sandwiches and doctor up the soups with spices and cheese. Or, as Spencer Kolssak suggested, "Talk to Dr. Spinney if you want to know how to make a milkshake."
3. Get to Know Your Professors Outside of Class
"Getting to know your professors one-on-one is going to be the most valuable and growing experience you have at PHC," Josephine Johnson explained. "Dr. Favelo [also] really loves to be part of his student's lives," Thetford shared. "He's really, really friendly."
4. Avoid All Nighters
"You say things that make a lot of sense then but then they don't." Thetford wrote the following sentence at 3 a.m.: "Western civilization offers unique benefits to civilizations in the west." "Studying for finals at 3 a. m. turned into a wing fight on Facebook," Johnson added.
5. Study the Right Topics!!!!
After frantically memorizing US history outlines the day before an exam, Josh Webb and Shane Roberts realized they had the wrong essay prompt. "We had to come up with an essay outline at 1 a.m.," Webb lamented. "Moral of the story: make sure you have the right essay prompts."
6. Go to the Dances– Especially the Freshmen Dance
"You have to go to the freshman dance– there is no choice," Thetford noted. "It's not awkward, it's fun!" "At the freshman dance, dance with everybody," Kolssak added. "It's your time to get to know everybody."
7. Ladies, Beware of 'Rent the Runway'
"Never [use] Rent the Runway," said Poths. She rented a gown that didn't fit, and her friend, Arynn Andrews, ordered a dress that arrived the day after the dance. "Go to a store and try on the dress you want," Poths advised.
8. Relax about Relationships
"Please, don't just date someone because they're there to date," Johnson begged. One student suggested that couples "stay out of the couple couches in the lobby." Go off campus to have "couple time." "Don't be overly weirded out," Thetford warned the single students. "[Cou-ples] have a lot to teach you about what they've learned."
9. Never Say Never
"Don't be so caught up in 'I'm never going to be caught up in a relationship,'" Sekerak said. "I said 'I would never be friends with those people,'" Thetford added, referring to people with different backgrounds. Yet he's now friends with the students he wished to avoid. "Those people are awesome and have something fun to offer… Don't rule out people ahead of time." "My little brother joked about how I would end up together with Becca Samelson," Kolssak explained. "I told him that would never happen. And then it did."
10. Develop Relationships with Your Classmates
"Value the people. They're the best part of PHC," Johnson advised. Some worried about managing a rigorous academic load with a social life. "I told myself… I was going to study all the time," Poths said. However, she is grateful for the relationships she has formed. "You really should branch out and meet people because the people here are amazing." "Everyone will tell you this is so hard, it's so rigorous," Thetford noted. "[But] it's nothing that can't be done… You can have lots of fun, lots of friends, and get good grades."
So, to the class of 2019, excitedly beginning a new phase of life at PHC: keep your enthusiasm. Love school and people. And if you don't use a tray in the dining hall, you'll get through your freshmen year like the rest of us.
Sincerely, Becca Samelson and the Class of 2018
--
Originally published in PHC's The Herald