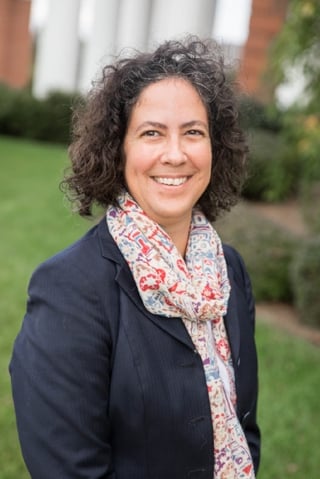 Patrick Henry College welcomes its newest faculty member Dr. Tracey McGrath as the Assistant Professor in the Department of Mathematics and Science.
Next semester, she will teach discrete math, econometrics, linear algebra, and real analysis.
McGrath received her undergraduate degree from the University of Chicago in physics and applied math and her masters in biogeochemistry. She also has a Ph.D. from Princeton University in geophysical fluid dynamics and completed a graduate fellowship with the National Aeronautics and Space Administration.
McGrath formerly taught at the California Institute of Technology and Harvard University before deciding to come back to Virginia to be near her parents. She knew PHC had been successful in the humanities and was surprised to see it had an opening for a math professor. She applied immediately.
"It was completely on a whim. I don't even know why I looked. Clearly, the Lord works in mysterious ways," McGrath said. "When I came and met with everyone, I knew this was the right place, and I needed to be here."
Learning has been an integral part of McGrath's life. Both of her parents graduated from the University of California, Berkeley, and her mother has a Ph.D. in psychology, while her father has a Ph.D. in math and was involved in the early space missions.
McGrath knew she wanted to do something different than her father but still wanted to work in the math and science realm. She found her niche after watching a lecture on glaciology (the study of the internal dynamics and effects of glaciers).
"The professor who gave the talk got to go out and sit on a glacier for three months, and when you're 20 that sounds pretty great," McGrath said.
Her gifts aren't confined to the mathematical realm. A true polyglot, McGrath speaks French, German, Hebrew, English, and Dutch. In college, she took Hebrew because she was left-handed and wanted a language that wouldn't smudge marks on her hand. It led to a pretty exciting opportunity later on—a professor heard she studied Hebrew and asked if she could be a field assistant for a project in Israel.
McGrath encourages students to take opportunities to learn even if they do not know how they will specifically apply the knowledge at the time.
"Throughout the research in my career, I can't tell you how many times things that seemed worthless to learn came back and were very useful," she said.
Though there have been fads for scientists to call themselves atheists, McGrath believes many scientists are agnostics or deists. At the same time, she says openly saying you are a Christian can be a career-killer.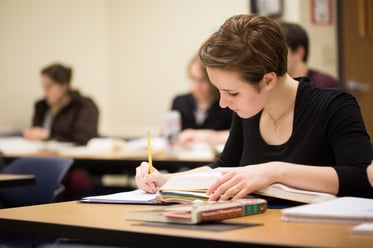 She's a part of the College's push to expand into other majors and programs like physics, computer science, and pre-med, McGrath said.
McGrath believes many people are turned off to math because of setbacks that can happen in formative years like middle or high school. Either by having a bad teacher or trouble understanding a concept, students believe they are "bad at math" and accept that as reality.
"I've heard a couple of Patrick Henry students say, 'I'm not good at math' but I would argue everyone here is good at math because they are able to do the logical and rigorous thinking that is needed," McGrath said.
She says learning math is like studying a language.
"If you were asked to give a philosophical argument in French you would probably feel uncomfortable if it was not your native language," McGrath said. "The same applies to math, if you learn the language, you are able to use it."
----------------
If you've enjoyed the pieces we have featured on LearnPHC...