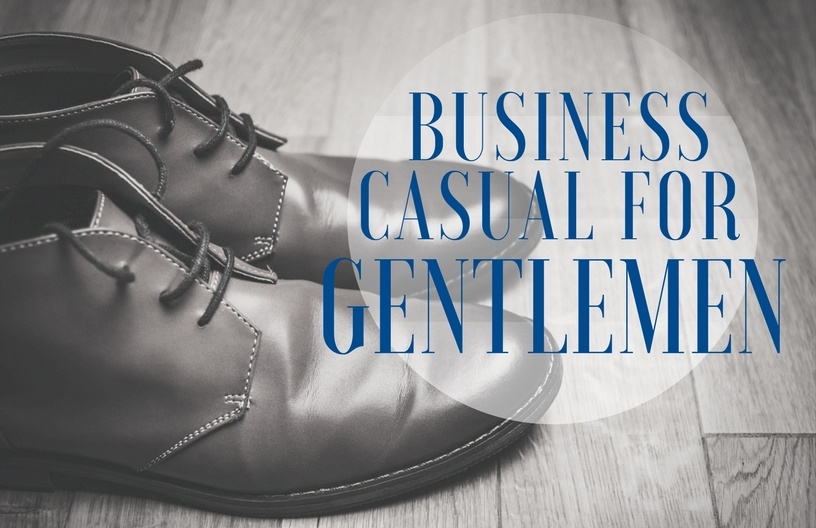 Let's be real: many people judge a book by its cover. At Patrick Henry College, one of the ways we strive for excellence is by dressing in business casual. That's why we are focusing on thoughts from students on excellent business casual style for gentlemen. What makes the difference between sleazy and snazzy business casual?
Thoughts from PHC senior, Daniel Thetford
I want to address three prevalent style sins I see and recommend three pieces for your wardrobe. These may seem obvious, but I see guys committing these style sins all the time.
Beware of these style sins!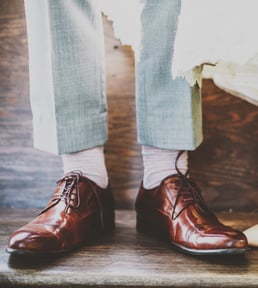 • Never wear athletic socks with dress shoes. Nothing looks worse than a white sock protruding from an otherwise decent-looking shoe. When in doubt, your socks should match your slacks. If you want to up your game, get some cool dress socks with a pop of color and a cool pattern.
• Always wear a belt that matches your shoes (suede shoes can be an exception). Wear your brown dress shoes to the store and find a belt that matches their shade of leather; it will look awesome.
• Don't let your white t-shirt show above your dress shirt. A splash of white showing over your top button can ruin an otherwise solid looking shirt. Get some v-neck shirts to wear under your button up. Even better, wear a tie to cover your neckline.
Add these to your shopping list!
It's difficult but possible to revitalize your style on a tight budget. You can up your style game with just two or three interchangeable pieces. These are my three suggestions:
1. Get some slim-fitted, modern-looking khaki chinos. Chinos are like khaki pants but are less baggy and more versatile. Banana Republic outlets typically have great chinos for good prices.
2. Buy a stylish pair of brown dress shoes. Avoid boxy and plain shoes. Try and find a dapper pair of wingtips, monk-straps, or a cap-toe pair with some broguing, anything that looks dressy and unique (if you don't know what those terms mean, google them!). A well-polished pair of nice dress shoes can make even a mediocre combination look dapper. DSW has great deals on dress shoes on their clearance rack.
3. Lastly, nothing beats a crisp fitted white dress shirt. Avoid button-down collars and loose fabric. Find something smooth and slim. White matches everything and looks good dressed up or down.
Thoughts from PHC senior, Spencer Milligan
Being fashionable and professional is easier than you might think. When planning your outfit, it is important to understand that simplicity is key, so here's some advice about picking out blazers, pants, and ties.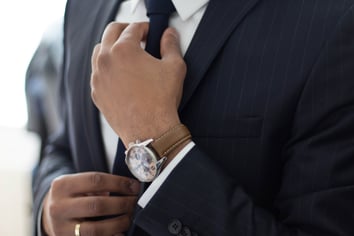 Blazers are a must
First of all, every guy needs two blazers, preferably two neutral colors like tan and blue. These are non-confrontational colors that can be interchanged from day to day, maintaining a "new" look while only changing minimal accessories.
Colored pants give you options
Two pairs of slacks go a long way in mixing up your look. Purchasing two different colored pants from your blazers allows you to mix and match well with you neutral blazer. If you wanted to change up your style even more, you could get one dress pant and one chino, giving you a professional look and a more casual day to day look.
A sharp tie can pull your look together
Every professional needs a few ties. To get the maximum amount of variety, try some textured ties. Wool and knit ties are a classic look that can you stand out from the crowd and make a positive impression. Ties do come with rules. Apart from solid colors, ties with large patterns should only be matched with a solid color, or small patterned shirt and vice versa. When in doubt, just stick to wearing only one piece with heavy patterns.
Article courtesy of The Herald.
-------------------------
We hope this post was interesting to you! Comment below with your thoughts.