PHC students are studying, going to classes, rehearsing for plays, and working their various jobs from sun up to sun down...
It's time to stop saying "I'm busy." Shut those books. Go do something fun. Fun? Yes, fun. That thing we do in the summer and on breaks. Don't know how during the semester? Tackle your new assignment: Fun! Check out some student recommended places in the District of Columbia.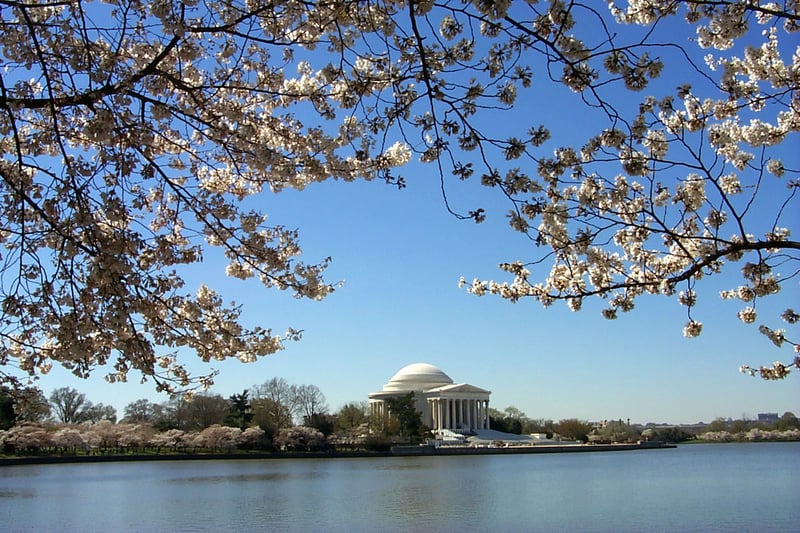 Jefferson Memorial (photo courtesy of Wikimedia Commons user Patrick Fitzgerald)
Dangerously Delicious Pies offers a new twist on your mama's homemade pies. From savory pot pie to sweet apple crumble, this place will satisfy dinner and dessert all for a reasonable price. Lastra went in January with a group of friends on a Saturday night and loved the atmosphere.
"It's a hip, hole in the wall place that attracts a wide variety of people," she said. "The chicken pot pie is my absolute favorite."
2. From junior Peter Thompson: the Jefferson Memorial.
Thompson's late-night trips into Washington D.C. have always brought him to the memorial.
"It's one of the least appreciated memorials, which means it's never crowded," Thompson said. "I like it during the day, but at night when it's lit up and reflecting across the Potomac it's calming. Also, with cherry blossom season coming up it's the perfect place to admire them from."
The Jefferson memorial was dedicated by President Franklin D. Roosevelt on Thomas Jefferson's 200th birthday. Originally, the locals didn't want it. However, it is now one of the most well-known sights in the District and in 45 minutes or a quick ride in from Reston, you too can admire our third president's 10,000-pound statue for yourself.
3. From senior Rebekah Jorgensen: Baked and Wired.
Jorgensen lived in D.C. last summer as an intern for the Koch Institute. In her spare time, Jorgensen treated herself to a new restaurant a week and compiled a list of the best places to go.
"I made it my goal to catalog an exhaustive list of as many cupcake shops as I could, and Baked and Wired won my cupcake Hunger Games without any close competition," Jorgensen said. "This little nook in Georgetown might not be as flashy as its popular TV neighbor, Georgetown Cupcakes, but their baked goods are far superior to any others in the city. The carrot cake or funfetti flavors are my personal favorites, but it's impossible to get a bad cupcake."
A full night of fun awaits you. The best fix for stress is to grab your roommate, your friends, or your significant other and head into the city for a sugar-fueled adventure. School will always be waiting for you, but those cherry blossoms only come once a year. You can do it!
---
Reporting courtesy of PHC's The Herald.