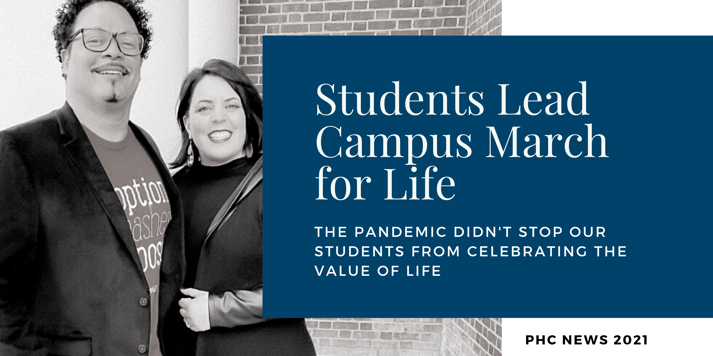 Each January 22nd, a good portion of the student body would normally participate in the annual March for Life in Washington, D.C., but the unique circumstances of the pandemic prevented Patrick Henry College students from attending the event. That didn't stop the student body from taking a stand to defend life in the womb.
Some stories are too important to keep in the dark. This time, students would hear the stories of Ryan Bomberger and Christine Kalmbach and their unique personal stories of life.
PHC campus decided to host their very own mini March For Life event . The event was organized by students like senior Danielle Bliven, freshman Christian Castro, sophomore Lydia Heykamp, and the administration. Attendance was not mandatory but encouraged, and students filled the bleachers. Faculty and off-campus students sat in chairs on the gym floor six feet apart.
After a few initial hymns, Dr. Mark Mitchell began the chapel message with a reaffirmation of PHC's stance on abortion, defining abortion as a "radical rejection of gratitude" and asking students to love as Christ loves us. "We are pro-life because we affirm the dignity of each and every person," he said.
At the conclusion of his message, Heykamp invited speaker Christine Kalmbach to share her story and encounters with abortion. Kalmbach hails from Houston, Texas, where she is a wife, biological and foster mother, and realtor. She also founded an organization called Texas Parents Care that supports parents through post-abortive circumstances.
Kalmbach's family was torn apart by divorce when she was only two years old. Her father was an alcoholic, her mother anxious to keep the peace. When Kalmbach was four, she was sexually abused by a family member and then later by adult men. Eventually, her mother remarried a drug addict, causing the home to become a haven for addiction. "I couldn't have friends over," Kalmbach recalled, "because they couldn't find out we had drugs in the house."
She became promiscuous as a teenager, losing her virginity at fourteen and becoming pregnant only a year later. "I didn't understand personal boundaries or healthy relationships," she said. Her boyfriend at the time was a narcissistic alcoholic who didn't—or couldn't—understand Kalmbach's hopes of marriage and a family. His mother pushed Kalmbach to have an abortion at every interaction. When Kalmbach's boyfriend cheated with another close friend, her familial hopes dissolved and she resolved to have an abortion.
Her first visit to the abortion clinic was brief but the impression left scars. The place smelled like rubbing alcohol. Apathetic nurses prowled the cold, austere hallways as doctors repeatedly tried to convince to Kalmbach that abortion would save her the pain of having a child. Nothing could have been further from the truth.
After fighting with her mother about getting an abortion, her boyfriend called her the day of the procedure. He had gotten drunk the night before and was still too drunk to drive. The girl and former close friend he had cheated with drove Kalmbach to the clinic instead. "I look back at it and it's unbelievable," Kalmbach said as she described the event. "It seems like a bad dream."
Before the procedure, she began to cry. The nurses took her to a room so as not to disturb other patients who were dealing with the same conflicting feelings and emotions. A nurse told her she needed to finish what she had started.
"One of the things pro-choice people don't tell you is that once you get pregnant, you're already a mom," Kalmbach said. Every day she regrets the boy she never gave birth to, the life that could have been saved. Later, when faced with another pregnancy with another abusive boyfriend, Kalmbach didn't think twice. She gave birth to her daughter in 1997. Ever since, she has remained dedicated to the path of healing that Christ laid for her. Kalmbach became saved, married a Christian man, and had two more children.
"Don't let doubt or fear stop you from living the way that God wants you to," she said. "Fear is a liar."
Ryan Bomberger, founder of the Radiance Foundation, stood to address the audience next. His story details his fight to preserve the sanctity of life, just as his own mother had fought to preserve his before he was born. His biological mother was raped and chose to give birth rather than give in to the pro-choice mantra that rape is an acceptable reason for abortion. Adoption unleashes purpose, he described, drawing a parallel between adoption and salvation as Christ adopted Christians as His people.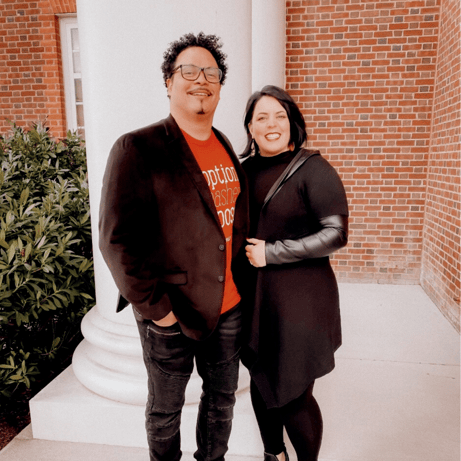 Bomberger gave a brief history of Planned Parenthood and its mission to dehumanize and to take away the dignity of inherent human worth. Centered around profit gained from abortion services, Planned Parenthood parades abortion as "essential healthcare." That is not the only lie they try to sell you, Bomberger said. "Planned Parenthood is fake health." Contrary to their website, abortions actually increase risks for breast cancer, miscarriage, and future pregnancies according to the a study by National Academies of Science.
Bomberger encouraged students to volunteer at the local crisis pregnancy center and to become active in spreading the pro-life message. "We want to equip and empower you to promote the truth: that every human life, planned or unplanned, has purpose."
----------------
Why is Patrick Henry College Pro-Life? Why won't we change our stance?
Click below to learn more.