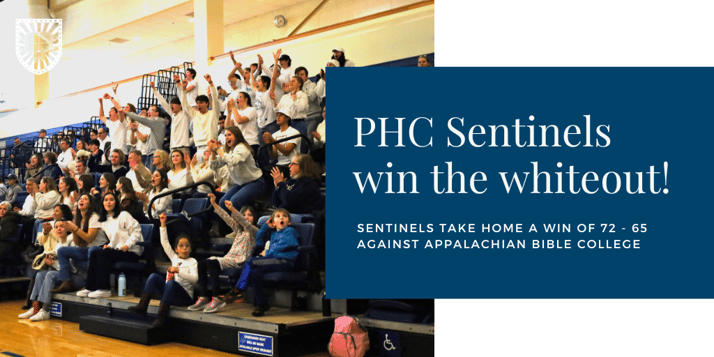 The Patrick Henry College Sentinels brought home a 72-65 win against Appalachian Bible College (ABC) during their whiteout basketball game on Saturday, Feb. 4.
"It was nice and competitive. It turned into a close game, but God is good. … We played really good team basketball and good defense. ... We slowed it down and it paid off," said freshman Nathan Semlick.
Sentinel support was high, with over 100 PHC students, staff, and faculty filling the bleachers with a sea of white shirts. The Sentinels played to the constant cheers and chants of "DE-FENSE!" from the audience, which lasted down to the final few minutes, when both teams stayed within a point of each other until the Sentinels pulled ahead by seven to secure the win.
The energy of the white-clad crowd was infectious. Encouraged by the crowd's cheers, Semlick scored 28 points over the course of the game. Sophomore Chris Ziemnick scored after being temporarily taken out of the game for an injury. To the crowd's delight, Chancellor Emeritus Michael Farris even got in on the action, performing a layup during halftime. As soon as the final buzzer sounded, the sea of white poured from the stands onto the court, celebrating a hard-fought victory with their team.
Before the men's game, the Lady Sentinels faced ABC, playing well. Freshman Gretchen Whittington scored within 30 seconds of the game's start, giving the Lady Sentinels an early lead. Sophomore Hannah Kim scored half of the Lady Sentinels' 28 total points. The Lady Sentinels ended up losing to ABC 28-51. "I think our plays worked pretty well," said junior Kathryn Eiler. "We just need to work more on spacing out, dribbling, and landing shots."