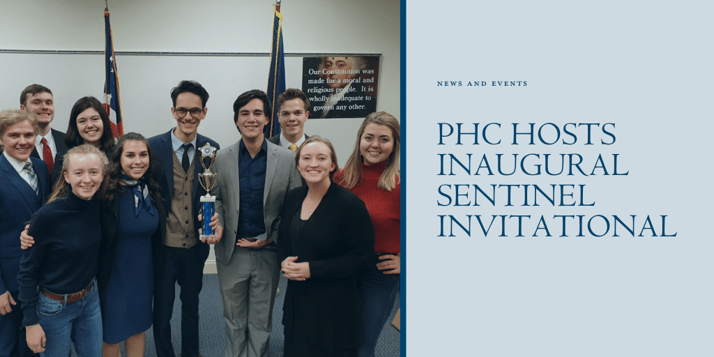 On Friday Nov. 15 – Saturday Nov. 16, Patrick Henry College hosted its first-ever Sentinel Invitational mock trial tournament, bringing together four developmental mock trial teams from PHC, George Washington University, and University of Maryland, Baltimore County.
The tournament was created to allow teams with students who had minimal or no previous college mock trial experience a chance to compete against similar teams from other colleges. Each team faced the other teams once in a round-robin format. The teams were judged by local attorneys and community judges, creating a full competition experience for the students.
Our PHC Blue team prevailed as the tournament champion, winning 5 of 6 ballots, with PHC Green taking second place overall. Individual awards were given to the top five attorneys and top six witnesses in the event, with students from every team earning such recognition.
-----
We believe that God calls Christians to serve in every area of culture, including law and government. By training leaders to communicate effectively, Christian students will be equipped to excel in their sphere of influence because they carry the truth and glory of God. Learn more about Patrick Henry College's world-class Pre-Law Advising Program.
Patrick Henry College exists to glorify God by challenging the status quo in higher education, lifting high both faith and reason within a rigorous academic environment; thereby preserving for posterity the ideals behind the "noble experiment in ordered liberty" that is the foundation of America.