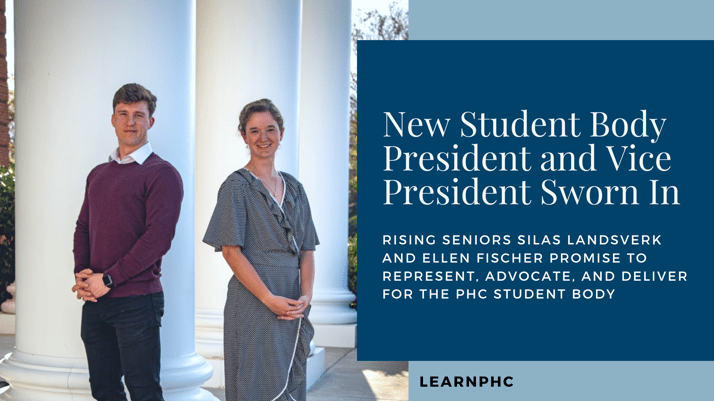 Rising seniors Silas Landsverk and Ellen Fischer won the runoff election for 2022-2023 PHC Student Body President and Vice President on April 21. The two were sworn in during corporate chapel on April 25.
"I never expected this to be me," Landsverk said. "Ellen and I had a lot of ideas of what we wanted to do and a really clear [vision of] what we think a SBP and SBVP should look like and do, and we realized that we just wanted to see if we could do that for the student body."
They won 49.7 percent of the vote during the initial election on April 19, in which they faced three other tickets. Because winning 50 percent of the vote was required to win the election, the top two tickets, Landsverk/Fischer and rising seniors Jack Singer and Noah Johnson, moved on to the runoff. On April 21, Landsverk and Fischer emerged with 61 percent of the vote.
The two developed their platform based off of three words: represent, advocate, and deliver. "Those weren't just buzzwords," Landsverk said. "Those were the three things that we thought a student body ticket should look like and the three things they should be good at doing."
Landsverk explained that students should feel confident those elected to the positions of student body president and vice president would represent the student body well, advocate for resolution to concerns, and deliver results and solutions.
Serving in student body government can be an opportunity to give back and serve campus and the student body, which Landsverk and Fischer realize. They hope to emphasize service next year by implementing community service days, where the campus as a whole mobilizes to serve the broader Northern Virginia community.
"We want to give PHC students an opportunity to do something they do incredibly well: serve, care for, and minister to others," Landsverk said.
Landsverk and Fischer plan to continue developing the College's Senior Track, which provides training and materials that help prepare seniors for post-graduation. They also want to implement major-specific mentorship programs, in which upperclassmen are paired with underclassmen in their majors to give guidance, provide additional perspectives, and develop valuable relationships.
"We'll definitely start working on stuff over the summer and getting ready to hit the ground running in August," Landsverk said.