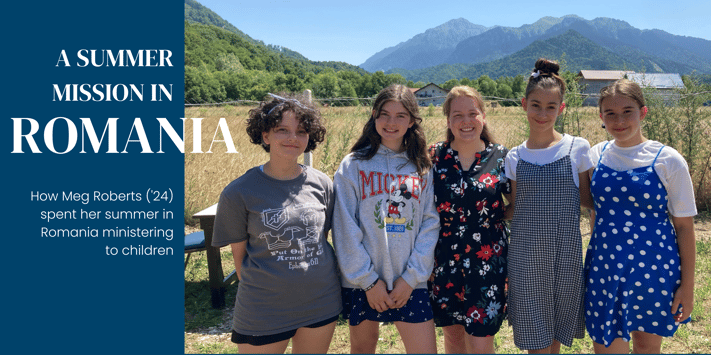 Junior Meg Roberts spent the beginning of her summer vacation in Hawaii as any PHC student would: interviewing for an internship. But then, she wasn't offered the internship.
"Secretly, I was like, praise the Lord," Roberts said. "I wanted to go to Romania instead." Roberts went to Romania for the first time with her youth group in March 2020 through LIFE Romania, a ministry that disciples Romanian children. Roberts' first trip to Romania involved more hazmat suits and time in quarantine than she would have preferred, but she liked the people who worked for LIFE Romania and wanted to go back. When her internship over the summer fell through, she applied to LIFE Romania.
"Yeah, send her over. We just need the paperwork," said Iulian Avramescu, founder and director of LIFE Romania and friend of the Roberts family, in a Marco Polo to Roberts' father.
Roberts faced her first challenge when she spent two hours on the Dallas airport tarmac and missed her connection on London. The next day, she discovered that her new flight to Poland had been delayed, which she knew would cause her to miss her connecting flight to Bucharest, Romania. At the airport helpdesk, Roberts purchased a ticket for a direct flight to Bucharest, where she landed three days after leaving Dallas. "Throughout the entire process, I really was just trusting the Lord with it because there was nothing that I [could] do," Roberts said.
Once in Romania, Roberts participated in a week of counselor training before jumping into five weeks of summer camps. Roberts taught English, participated in chapel, led reading discussions, and led games. Some weeks, Roberts shared a room with the campers she counseled. On average, Roberts stayed busy from 7:30 a.m. until midnight every day. Discipleship is the focus of LIFE Romania. The gospel is presented on the second night of camp so that the rest of the week's discussions can focus on how to live after salvation. Counselors are instructed to build relationships with the campers and follow up with them immediately after they leave. Since Roberts does not speak Romanian, she took on tasks like setting up and cleaning up chapel skits and leading arts and crafts. This gave the Romanian-speaking counselors more time to talk one-on-one and build relationships with the campers during free time.
"[Roberts] is the best intern we've ever had. She was wise enough to integrate. She's really good at reading people," Avramescu said. Roberts took every opportunity to interact with campers when she was not working behind the scenes. Through translators, she served as a counselor and answered questions. One girl asked Roberts, "What happens to me after I die?" Through a translator, Roberts and the camper held a 30-minute conversation that concluded with the girl praying to accept Christ.
Roberts left Romania before the last week of camp to prepare for the fall semester at PHC. Putting 8,000 miles between herself, her campers, and fellow counselors was difficult. She particularly struggled to leave a counselor she knew who struggled with depression and anorexia in a country that looks down on mental health issues.
"It was really hard for me to trust God on that one, but it was also easy because I didn't have a choice," Roberts said. "I feel like that was the theme of the entire summer: you're going to trust God because you have no choice not to."
During her time in Romania, Roberts learned to work Jesus into every conversation. She plans to continue living with that mindset while back in the States. "We're all called to show Jesus in every aspect of our lives, and it's just more evident when you're on a mission trip," Roberts said. "That isn't something that needs to stop now that I'm home."
This article was originally published in PHC's student-run newspaper, The Herald.