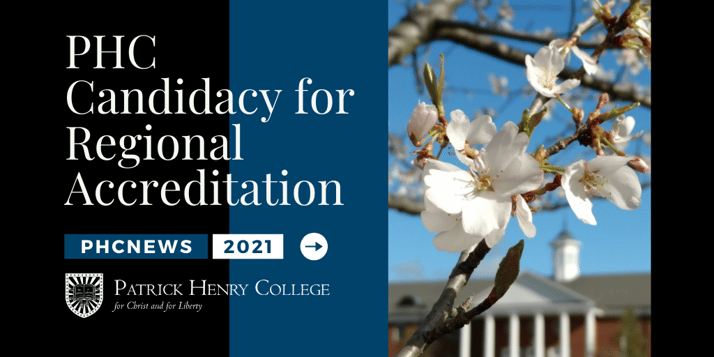 Each year, more than 2.6M unique visitors review the U.S. News and World Report list for "Best Colleges." Prospective students and their families in the college search process want to know: Where does Patrick Henry College rank in that list? It's not easy to say. PHC is not yet on the list.
Have you looked through "What Will They Learn?" by the American Council of Trustees and Alumni? It's an annual publication that evaluates the general education requirements of over 1,100 American liberal arts colleges and universities, but again, where's the page for Patrick Henry College? PHC is not yet included in the study.
Patrick Henry College has long been nationally accredited by the Transnational Association of Christian Colleges & Schools—since 2007—but college rankings like those mentioned, and many others, include only regionally-accredited colleges and universities.
Why? The answer is not a simple one, but we set out to answer that question in this video hosted by Rodney Showalter, PHC's VP of Institutional Effectiveness and Planning.
Being included in college rankings will help with student recruitment and, particularly because of PHC's high academic rigor, will ultimately be a strong selling point for the College.
College rankings are only one of several factors that make regional accreditation important for PHC. It will also open opportunities for additional student scholarships and additional financial support from foundations, ensuring that PHC will continue to impact our nation "for Christ and for Liberty" in the important years ahead.

A big milestone has been reached in the journey toward regional accreditation! PHC recently received a great report in its journey toward regional accreditation. The Commission on Colleges of the Southern Association of Colleges & Schools (SACSCOC) has granted Candidacy status to Patrick Henry College!
This status is now on our website for all to see and—importantly—is included on every transcript that we send.
When Jack W. Haye took office in 2015 as President of Patrick Henry College, he named regional accreditation among his top priorities for the future of PHC. "Thank you for your steadfast prayers and support!" said Haye when he recently shared this big news of Candidacy status with PHC supporters. To this announcement, Dr. Farris, PHC's Founder and Chancellor emeritus replied,
"This is the second most important day in the history of the college.
The most important was the opening day."
Not only is this a huge team effort, made possible by our staff and faculty alike, but equally important was the role our supporters played in this process. Finishing fiscal year 2021 financially strong was critical for PHC to receive candidacy status, and it will be even more so next year. Similarly, your prayers both encouraged us and opened doors that had previously been closed.
Rodney Showalter, Vice President of Institutional Effectiveness & Planning, summed it up this way, "Candidacy with SACSCOC is an important milestone for all of the families who, over the past 20 years, believed in the personal and national consequences of rigorous learning for Christ and for Liberty. So much trust and so many talents and sacrifices made this vision a reality."
PHC is now officially on the path towards SACSCOC membership as an accredited institution and is scheduled to host their Accreditation Committee in February 2022. We'll keep you updated on the progress.