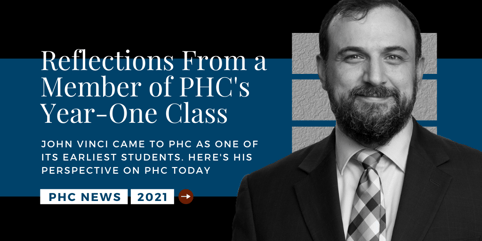 John Vinci was a prospective student at Patrick Henry College before there was even an Office of Admission. Before Admitted Student's Day, campus visits, or counselor calls, Vinci had heard that Michael Farris was planning to challenge the status quo in higher education by starting a college dedicated to training a new generation of Christian leaders.
And to him, that was good enough.
Almost 20 years since he became a freshman at PHC, Vinci still believes in that vision originally laid out by Farris. He believed it almost from day one—not because of the track record of the school (there wasn't any just yet)—but because of the leadership working to make that vision a reality.
"There was a lot of excitement and energy because we knew we were doing something big. I had a lot of confidence in the people who were in charge: people who loved God, who were committed to excellence," Vinci explained.
His advice to students today? Don't lose sight of that vision.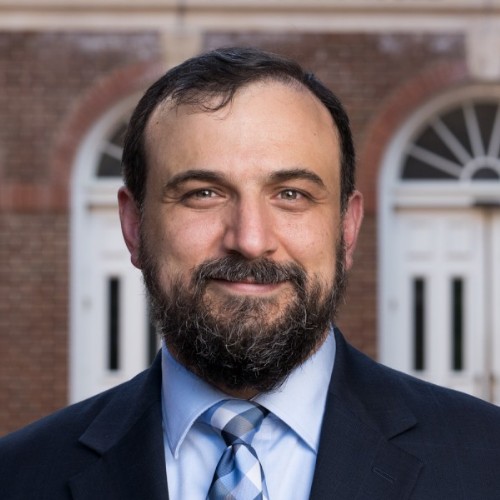 Pictured above: Vinci's profile on Bosson
Legal Group's Website
Now that the school does have 20 years under its belt, an unprecedented record of success, and a bright future, Vinci would encourage students to continue living out the excitement present in 2001.
Vinci graduated as a part of PHC's Class of 2005 with a degree in Government. Today he's an attorney with Bosson Legal Group and most recently has been elbow-deep in an attempt to represent American contractors formally stationed at Bagram airbase in Afghanistan.
But he didn't always know he wanted to work in law. In fact, he didn't really know he wanted to go to college. That journey started unexpectedly over a box of pizza in a breakroom.
Vinci first encountered the idea of PHC while working for the Homeschool Legal Defense Association. His manager at the time treated Vinci and three other HSLDA interns to lunch and explained the blueprint of the college. And for Vinci, who came from a Christian, homeschooled background, the message hit home.
He didn't know the specifics of what was meant by a "classical liberal arts education." But Vinci understood that the school would follow an apprenticeship methodology of education with an emphasis on internships, would incorporate a biblical worldview, and would challenge students through a rigorous experience that had been specifically designed to rival the Ivy League.
"We saw Patrick Henry as the kind of place that could attract Christian students of a high caliber, capable of challenging even the best and the brightest," Vinci said. "I hope that current students feel that they're part of something special—that they're part of something that's bigger than themselves. And hope to carry on that same tradition, that same sense we had that first year."
As he's watched PHC grow and develop since his time, he believes the school has achieved the mission it had set out to accomplish. It has lived up to the promise of its idea and continues to produce high-performing Christian graduates.
His advice to today's student body would be to both maximize and minimize the role of PHC. He hopes they understand that PHC is just a step on a journey God has for them—not a destination. But at the same time, Vinci also would encourage students to see the big picture. The school has a calling and a vision. The College continues to affirm its founding vision and Vinci hopes that this vision will continue to inspire the student body today.
------------
To learn why Patrick Henry College believes it stands apart
from any other college in the nation, click below!