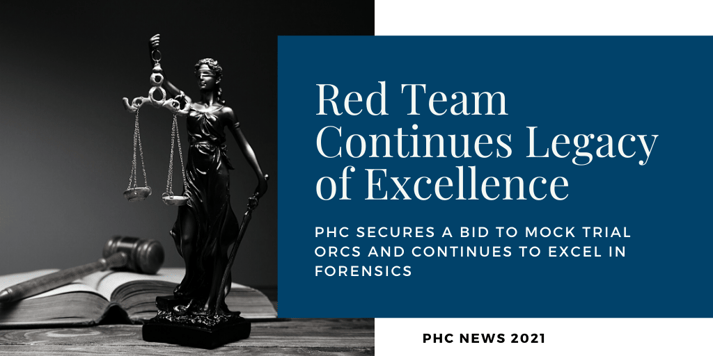 Patrick Henry College has proven itself a forensics powerhouse with an unmatched record in collegiate forensics competition, winning 12 American Moot Court Association (AMCA) National Tournament Championships in Oral Advocacy within 15 years—no other college has won more than one—and consistently finishing in the top 1% of the nation in the American Mock Trial Association (AMTA).
In the past three weeks, PHC's Mock Trial program continued that winning tradition as teams 1599, 1039, 1041, and 1042 (Red, Amber, Gold, and Blue, respectively) secured four Patrick Henry College bids to AMTA's Opening Round Championship Series (ORCS).
Time and time again, PHC students have been formidable contenders against the nation's most elite colleges and universities in the United States such as UVA, Yale, William & Mary, and Harvard.
Our students are among the best speakers and debaters in the country and have the track record to prove it.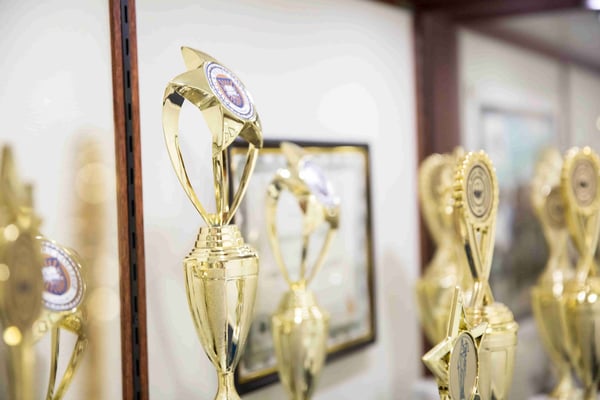 In competitive collegiate Moot Court, Mock Trial, and Civic Debate, PHC's forensics program has consistently been one of the top in the nation for the past decade and a half.
Moot Court
In the 2020-2021 season, Patrick Henry College was the only program to put two teams among the eight competing finalists in moot court oral advocacy. And our students placed 3rd, 6th, and 9th in written advocacy (brief-writing), as well as 2nd, 5th, and 10th in Oratory on a national level.
Civic Debate
"PHC's Civic Debate program has also met with recent success as two of its novice students—Sophia Chiado & Sarah Schmidtler—were crowned Fall Champions in their track of the Social Justice Debate series," said Ryan McDonald, Head Coach of the PHC's Civic Debate Program. "Additionally," McDonald continues, "PHC obtained multiple orator awards and placements in those debates. . . . Our students will be engaging in debates in as little as a week and a half and we expect to see great successes along the way!"
Mock Trial Team Heading to ORCS
In Mock Trial, Patrick Henry College is power-ranked as the ninth program in the country, placing PHC within the top 1% of teams. Our students enter the courtroom at an extremely high level of preparation and polish.
Getting to ORCS is hard—it's the stepping stone to the National Championship Tournament. For a college of 20 years to win three bids—something many college programs fail to do at all—speaks volumes about the level of excellence PHC students bring to every courtroom.
Red, Gold, and Amber teams got their bids the old-fashioned way: by being the more prepared teams.
With a record of six wins, zero losses, and two ties, Red team—a team comprised of freshmen and sophomores—out-argued, out-maneuvered, and out-spoke their competition.
Gold Team swept their opponents and took home an undefeated record of 8-0 against elite competition, at one point squaring off against Columbia University's A-Team.
And Amber Team also brought home a bid after going 6-2 and facing two other teams who also earned bids.
The Blue team, which also finished with a record of 6 – 2, brought home Patrick Henry College's fourth bid.
While PHC can only take two teams to ORCS, the acquisition of each of these bids represents hundreds of hours of work, sleepless nights, dozens of practice trials, and attention to detail.
Kyle Ziemnick, Red Team's Coach and a PHC graduate of the class of 2020, said that their success in the field was a direct result of the hours of work the students put in behind the scenes.
"This team worked so hard and so well over the past few months that they deserved to have success," Ziemnick said. "I'm grateful that it was such a significant success and that everyone performed phenomenally, especially against their best competition. I'm just really proud of them."
With the Mock Trial Season heating up in the coming month, Patrick Henry College hopes to continue its record of excellence against some of the best competition in the nation.
We've done it before and we're doing it again.
---------
By training leaders to reason and communicate effectively, PHC empowers Christian students to excel in their sphere of influence and thereby convey the truth and glory of God. Click below to learn more!