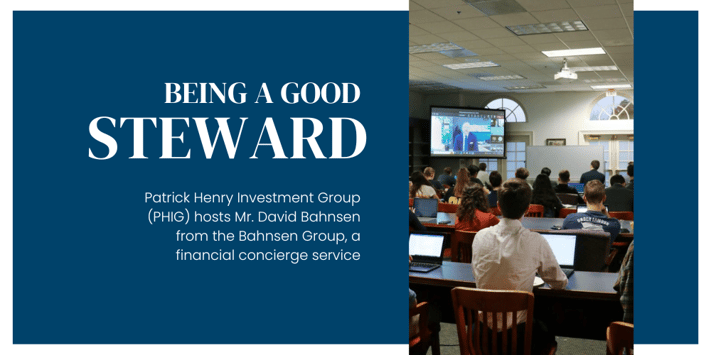 The Patrick Henry College Investment Group (PHIG) hosted Mr. David Bahnsen from the Bahnsen Group at an event on October 27. Open to the student body, the event featured an hour-long discussion on several pertinent topics. Bahnsen answered questions regarding the day-to-day life of the wealth management industry, his dividend investment philosophy, and how his conservatism and Christianity influence his work as an investor.
"The event was emceed by Hunter Erickson, who is one of our senior analysts," said senior Everett Chew, a member of the PHIG Leadership Team. "He actually was the one that made the connection and reached out initially."
Erickson originally learned about Bahnsen through members of PHIG's executive board. "[They] mentioned a daily blog and podcast called The Dividend Café and recommended that I look into it," Erickson said. Once he subscribed, he began listening to it daily. When an email came from the group asking how they could be a possible resource to Erickson, he asked if Bahnsen could come speak to PHIG. A month later, Erickson booked Bahnsen to speak for an hour. "I think it was a really neat opportunity for a young investment fund like the Patrick Henry Investment Group," Erickson said.
In planning the event, PHIG decided to open it up to the student body. "…[W]e want[ed] to provide education for the entire student body on investing, on how to cultivate a biblical worldview, [and] how to be a good steward, because everyone's going to have money at some point in their bank accounts," Chew said.
While he could not come in person, Bahnsen joined the event online. "We ran audio through the President [of PHIG]'s computer and put a speaker in the middle of the room," Erickson said. After a few tech issues in the beginning, Bahnsen's voice came through the rigged speaker system and the event officially began. Bahnsen dedicated the first half-hour to answering questions that PHIG sent before the event. The second half was an open Q&A for the attendees.
PHIG was delighted when a total of ninety students showed up at the event, since they had expected only around forty or fifty attendees. "Before the event, multiple students had to collect chairs from other classrooms," junior Marcia Washburn said.
Josiah Kitching, another member of the Leadership Team, said "It was encouraging to see that there are people in the wealth management industry that are dedicated to Christ." PHIG leader Reagan Van Belle expressed the same sentiments, grateful for the example Bahnsen set as "…a very successful businessman and wealth manager who is distinctly, articulately, and proudly Christian." Van Belle remarked that he was incredibly encouraged in his own goal of success in the business world while maintaining a deep Christian walk.
Even though it was hosted by PHIG, the event was geared toward everyone. "I think [Bahnsen] did a really good job of making things accessible to people," Chew said. Washburn attended the event to celebrate the successes of the EBA program and to "learn from someone well-known to the wealth management community for his successes and high-profile clientele."
When asked what his investment policy is, Bahnsen told students that the discussion does not start there but goes back to worldview. "He articulated how a Christian view of creation, [the] creation mandate, [and] theology of work all lead him to believe in a sort of free enterprise system," Chew said. Erickson said that Bahnsen spent fifteen minutes talking about theology, outlining what he believes about God and man, and what man's tendencies are. Bahnsen then said that he believes that the economy functions according to the general characteristics and functions of man. Keeping those characteristics in mind, Bahnsen identified what type of company in which he would invest. "Having this core worldview truly determines how you act," said freshman Abigail Spivey. "It was not something I had thought about in the context of a business or investing."
"David [Bahnsen] has been very, very successful," Erickson said, "just putting what God has said into practice in the area of finances and investment." Kitching said that he hoped that the one thing attendees took away from the event was the importance of being a good steward, which ultimately glorifies God.
Van Belle thought that the talk was especially powerful for PHC students because of how he clearly lives a life where "his theology directly informs his anthropology, which directly informs his economic philosophy, which directly informs his investment philosophy." Like Chew and Erickson articulated, Van Belle pointed out that Bahnsen's firm Christian worldview made him a better wealth manager. "Seeing that really affirmed in my mind the real wisdom of Patrick Henry's core curriculum. It allows us to see the truth and to be better at whatever particular job we end up taking, including in finance, where the connection between Freedoms Foundations and statistics is not always obvious."