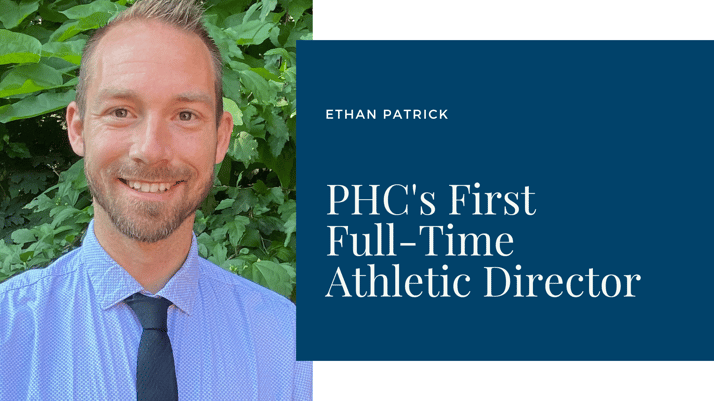 As Patrick Henry College continues to grow, and its athletic program continues to expand, the College has hired Ethan Patrick as its first full-time Athletic Director beginning fall of 2022. PHC continues to attract strong believers who are also scholar-athletes. Director Patrick will oversee the PHC Men's and Women's Basketball and the Men's and Women's Soccer programs in addition to any new intercollegiate sports added in the future.
Prior to joining the staff at PHC, Director Patrick served as the head men's soccer coach for West Virginia University Potomac State College.
Director Patrick has also served as an assistant soccer coach at both Richard Bland College (NJCAA DI) and Marywood University (NCAA DIII), bringing years of college-level coaching experience. Additionally, Patrick has experience with Youth Soccer's Olympic Development Program in Eastern Pennsylvania.
Patrick graduated from Baptist Bible College and Seminary in Scranton, PA in 2012 with a BA in Health and Physical Education which led to international experience as a physical education teacher in Puebla, Mexico; Shenzen, China; and Paramaribo, Suriname, where he also held the position of Athletic Director.
Patrick has earned various national coaching licenses through both the United States Soccer Federation and the United Soccer Coaches.
When Patrick was presented with the opportunity to become the Athletic Director for PHC, he agreed, wanting to coach at a four-year Christian college. "I wasn't at a Christian school. I wanted to be at a place where the school supported my mission and values," Patrick said.
Director Patrick looks forward to expanding and developing the Patrick Henry College athletic program; providing excellent recruiting, strong mentorship, player development, and personal spiritual formation. "My heart behind coaching and athletics is investing in lives," Patrick said.
Patrick Henry College is growing. "This is going to be an exciting time at Patrick Henry College," Patrick said. "I am excited to be a part of that and to help guide [the Athletics program]. I think it's going to be good for everybody."