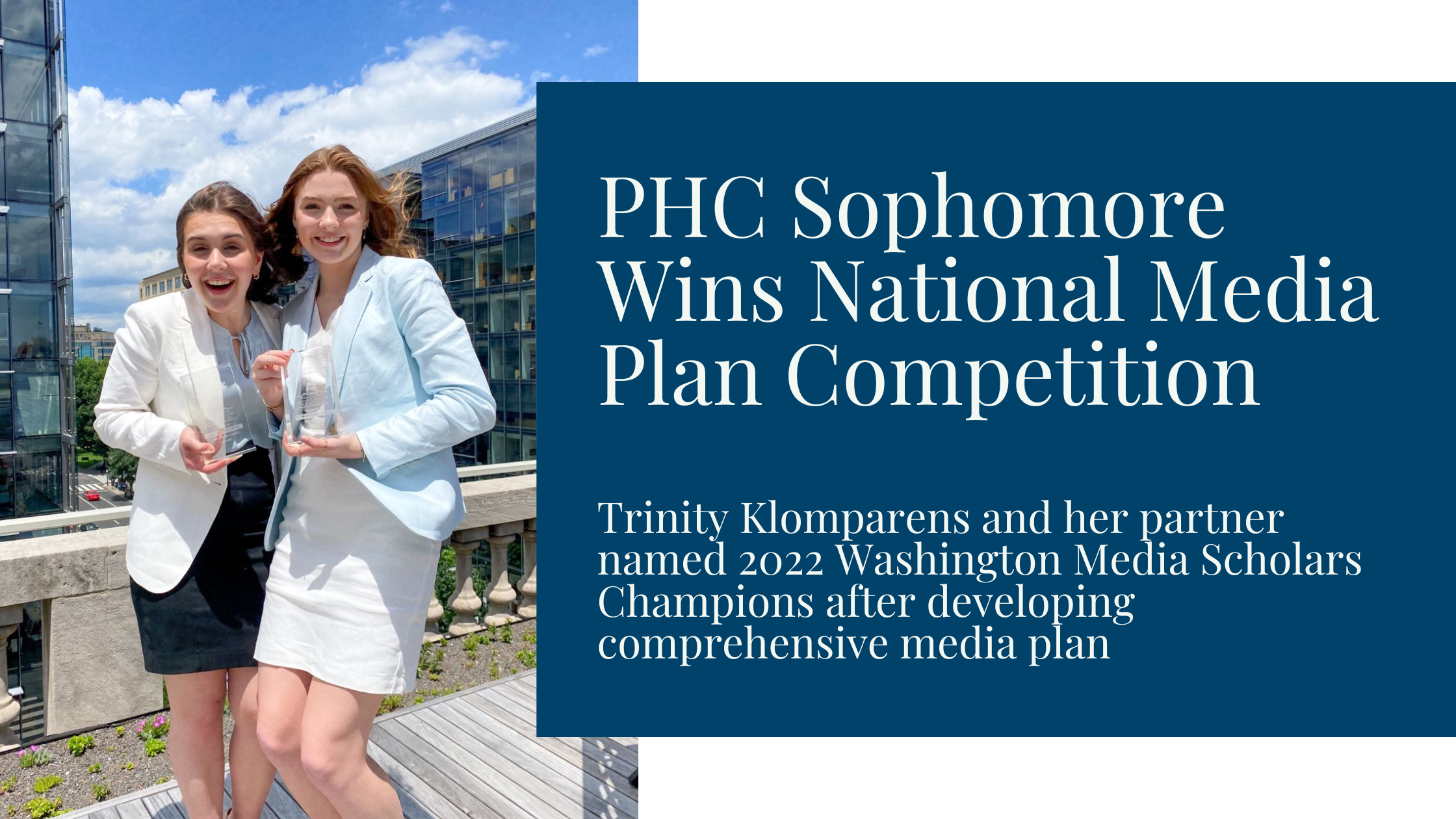 PHC sophomore Trinity Klomparens won the Washington Media Scholars' Media Plan Case Competition with partner Marta Dropping (Biola University) on June 9. They were selected as the winners by a panel of judges from major media companies during the final round of competition in Washington, D.C.
For the competition, Klomparens and her partner developed a comprehensive media plan for a hypothetical client who wanted to promote a magazine. "You have to come up with a creative solution to the problem as if you were working with a real client in media buying," Klomparens said.
They and five other teams of finalists earned their trip to the nation's capital by advancing through the spring qualifying and semi-final rounds of the competition. At each level of competition, elements were added to the problem to make it more complex.
"I didn't even realize how incredible it was going to be because I didn't know much about the media industry," Klomparens said. Through the competition, she learned that although writing and telling stories is an important part of media, the media industry also involves a lot of strategies that take place behind the scenes.
The learning didn't stop with the media plan competition. The finalists began their week in D.C. with a tour of the city's monuments. Over the next two days, the group visited major media companies that play a substantial role in shaping the nation's news: Politico, Fox News, The Washington Post, iHeart Radio, and others. "They were very busy, but were gracious and loved having us," Klomparens said.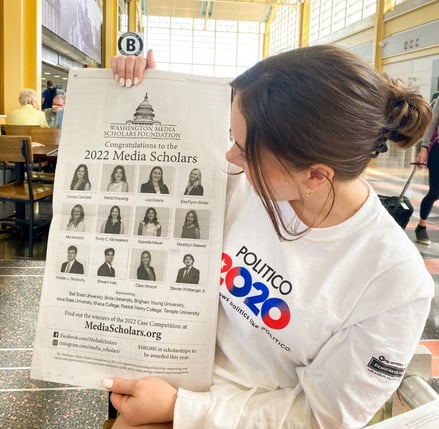 At each studio, the finalists were given the opportunity to ask questions and meet well-known journalists. "One of my favorite things to do was to ask what they thought about the ethical problems of journalism—which stories you choose to cover, which stories you don't," Klomparens said. "[They said] people deserve to know the truth, and if you find a story that you think people deserve to know about, then it's your responsibility to write about it."
On Thursday morning, the finalists each gave a 25-minute presentation of their media plan in front of the panel of industry experts. "Marta and I won the case competition, and we were blown away," Klomparens said. "We didn't know anything about media buying and media planning before doing it, but we poured a lot of work into it. It was just amazing, and we are very thankful." Klomparens and her partner each won a $5,000 scholarship, and all the finalists' photos were published in a full-page spread in the Washington Post the next day.