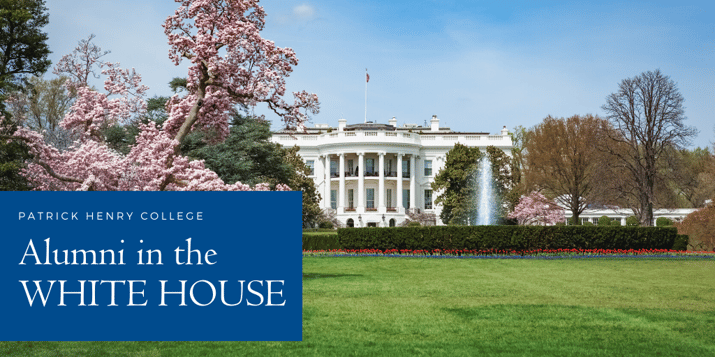 This month, President Donald J. Trump announced that Alyssa Farah has been selected to the White House Staff as Director of Strategic Communications and Ben Williamson to serve as Senior Communications Advisor.
Farah, who attended PHC until 2011, served as Press Secretary for Vice President Mike Pence and Press Secretary for the Department of Defense prior to her White House appointment. As Director of Strategic Communication, Farah will work directly with PHC alumnus, Ben Williamson.
Ben Williamson graduated from Patrick Henry College in 2015 with a BA in Government. Until early 2020, Williamson served as Senior Advisor to the White House Chief of Staff and as Communications Director for then Congressman Mark Meadows.
Farah and Williamson join another PHC graduate, Nicholas Butterfield (Journalism, 2008), who has been serving in the White House since the start of the Trump administration and was named Deputy Assistant to the President and Deputy White House Policy Coordinator nine months ago.
These three are just a few of at least ten PHC alumni who serve at the White House. One alumna is a state solicitor general, and has argued before the Supreme Court of the United States. Additionally, four graduates within the last four years have clerked for U.S. Supreme Court Justices Alito, Kennedy, and Chief Justice Roberts.
______
Click below to learn more about the one-of-a-kind academic program at Patrick Henry College.