At PHC, we believe that God calls Christians to serve in all areas of social and public life, including law and government. By training leaders to reason and communicate effectively, PHC empowers Christian students to excel in their sphere of influence and thereby convey the truth and glory of God. That's what we aim to do through our Moot Court program, preparing students to become ready and able professionals, regardless of their career path.
After having qualified a record high of 13 teams to the 2021 Moot Court national championship, Patrick Henry College once again took 16 of the College's finest orators to go up against the nation's most elite competitors. And while PHC didn't win the national title this time around, PHC was the only college with two of the top eight teams in the competition. PHC students displayed uniquely high levels of excellence in speech and in writing throughout the 2020-2021 Moot Court season.
For students planning on going to law school, there are very few tools that will prepare students as thoroughly as participating in moot court. Holly Slon, a 2009 History Graduate from PHC, believes it's the best way to prepare for the courtroom.
"Moot Court is the single most beneficial experience for anyone contemplating law school. Thanks to Constitutional Law and Moot Court, I entered law school already knowing how to read legal opinions and think like a lawyer," Slon said.
"I was also comfortable standing in front of judges and arguing in open court. These experiences were absolutely invaluable."
Susan Johnson, Director of the Forensics Program at PHC, said that students had performed powerfully and took a moment to thank the supporters who made this past season possible.
"Congratulations and many thanks to our outstanding coaching staff, Head Coach Peter Kamakawiwoole, Jenna Lorence, and Ben Sayre, and all the alumni who invested in our students and program this year. We are deeply grateful for all you do!" Johnson said.
"The most amazing thing about coaching here at PHC is the quality of the teams we send out each year. That quality runs far deeper than just how well you present arguments. It's also reflected in the two qualities we prize most in our students: a strong work ethic, and the camaraderie with your teammates that makes our program so strong."
It's this resolution to work hard and compete well that students will undoubtedly continue to bring into the off-season and into next year.
(To view a full roster of students we sent to nationals this year, click below!)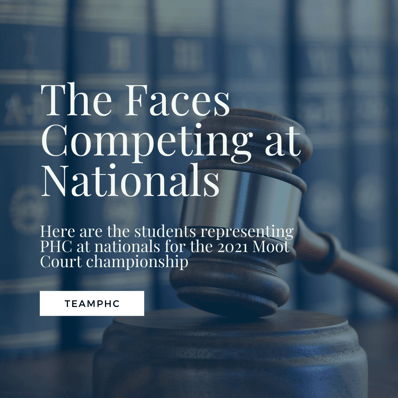 At the National Competition, a number of Patrick Henry College students received recognition for their outstanding use of rhetoric and writing before and during competition.
In brief-writing, students demonstrated their ability to explain legal arguments, to argue cohesively, and to impact readers with carefully-crafted rhetoric. Their ability, among the best in the nation, puts PHC at the top of this category. Congratulations to our recognized brief-writers! Students that placed in this category included:


3rd place respondent: Ben Phibbs & Cole Reynolds

6th place petitioner: Elijah Parkhurst & Anna Fox

9th place petitioner: Emma Shipe & Luke Argue
Six of Patrick Henry College's eight teams advanced to the weekend elimination rounds. Congratulations to Hope Turner, Isaac Bock, Adam Rauhauser, and Joshua Schumacher who made it to the Quarterfinal round! Tyler Dunning and Simon Sefzik advanced to Octafinals. Other students who also competed in elimination rounds were Lauren Rule, Sarah Crosby, Thomas Keith, Joshua Reeves, Bethany Loos, and Calvin Huh.
Additionally, PHC students displayed excellence in oratory, proving once again that PHC students are uniquely equipped to use speech eloquently and persuasively. Congratulations to our students who brought home oratory awards this year!
Outstanding Orator Awards (based on preliminary round scores):
2nd place: Calvin Huh

5th place: Hope Turner

10th place: Lauren Rule

19th place: Simon Sefzik

22nd place: Sarah Crosby

24th place: Tyler Dunning
In addition to being uniquely gifted in rhetoric, persuasion, oratory, and debate, the student body at Patrick Henry College is also competitive and loves a challenge. We will be back next year with another chance to retain the nation's title for the best Moot Court Program in America. Our students look forward to next season and the opportunity to again face such talented competition.
To learn more about how PHC's unique and challenging program prepares godly statesmen for places of influence, click below!
------