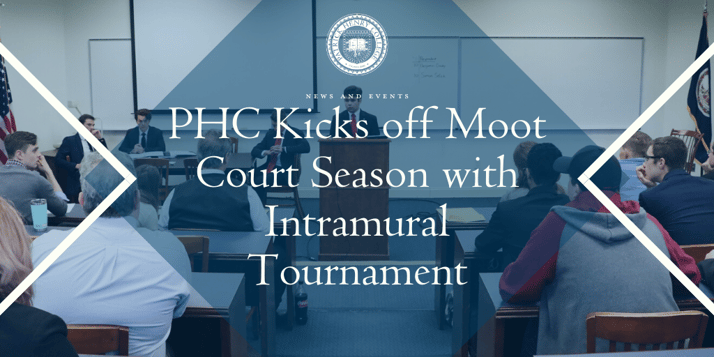 Every fall PHC's Forensics Department conducts an Intramural Moot Court Tournament to introduce new debaters to the school. Freshmen and Sophomores team up in pairs to show off their skills in rounds judged by upperclassmen and alumni. Last Saturday Isaac Bock and Hope Turner won the title of Intramural Champion with David Bainbridge and Riley Anderson taking the position of runner-up.
The tournament not only allows debaters who are new to the school put their best foot forward, it allows all of the moot court teams an opportunity to begin to interact with the American Moot Court Association (AMCA) case before the season begins.
Here are some thoughts from tournament competitors and moot court alumni:
Hope Turner (Tournament Champion)
I found the intramural moot court tournament to be very helpful in understanding how this season will play out. The questions from the justices showed me what is important and what judges care about. The rounds were very lively, the [judges'] questions were brilliant, and the experience was invaluable to me. I learned so much about the ins and outs of the 4th and 6th Amendments because I had to dig deep into my own understanding as well precedent. Overall, it was a wonderful, exhausting, action-packed, and an educational blast!

David Bainbridge (Tournament Runner-Up)
One of the things that I appreciate the most about the intramural tournament is the caliber of judges who show up. At this stage in the process, being grilled in questioning by the best of the best is invaluable. The intramural will only help us become better. It shows our areas of weakness and shows us what we have to do to win next time.

Thomas Siu ('18)
I'm looking forward to seeing another successful season for the team, and I'm confident in all the coaches that they'll be able to help shepherd students along the way. For the students moving on to tournaments over the next few weeks, remember that you represent a program with a long and storied history, so make us proud of your skills and your character. For the students who weren't selected for the varsity team this time, remember that you can also compete in the brief writing competition, which is a great way to showcase your analytical skills and make a strong case for selection next year.

Josh Webb ('18)
It can be easy to tie self-worth directly to success. To complicate matters even further, Moot Court represents an environment with clear winners and losers. Don't fall into the trap of viewing forensic success as an indicator of worth. All the trophies in the world are worthless if they've caused you to lose sight of our primary responsibility as Christians: to live and love well. With that said, have fun, read the cases, brainstorm with your friends and go bring home another national championship title.
We believe that God calls Christians to serve in every area of culture, including law and government. By training leaders to communicate effectively, Christian students will be equipped to excel in their sphere of influence because they carry the truth and glory of God. Learn more about Patrick Henry College's world-class Pre-Law Advising Program by clicking the button.
-----
Patrick Henry College exists to glorify God by challenging the status quo in higher education, lifting high both faith and reason within a rigorous academic environment; thereby preserving for posterity the ideals behind the "noble experiment in ordered liberty" that is the foundation of America.