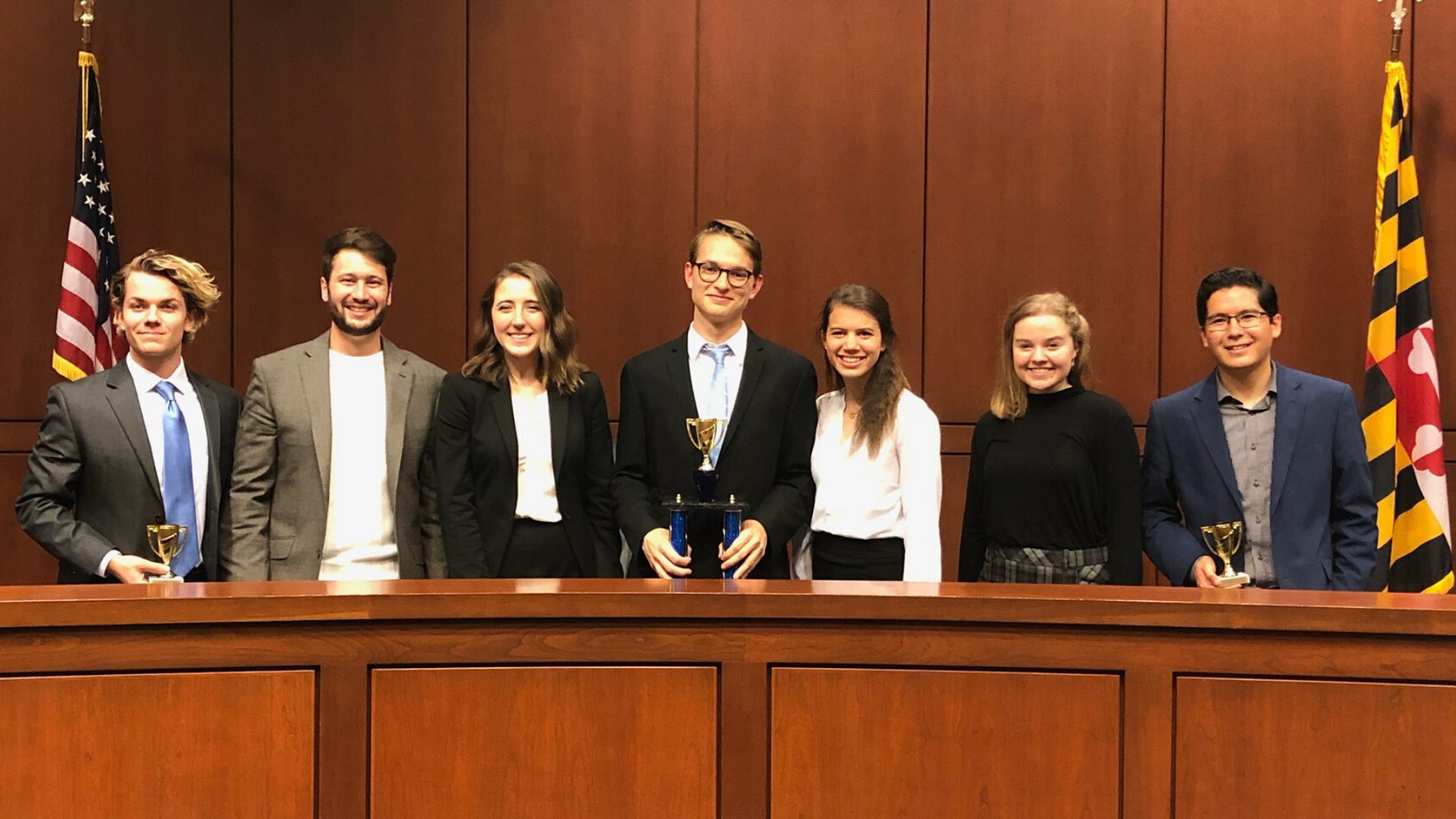 Patrick Henry College's A-Team in Mock Trial finished first among 25 teams at last weekend's tournament—they only lost one ballot.
Team captains sophomore Benjamin Crosby and senior Kyle Ziemnick both received awards—outstanding attorney and outstanding witness respectively. Other team members (pictured above) include sophomore Audrey Miller, senior Micah Bock, freshman David Bainbridge, freshman Allyn Sims, and sophomore Caitlin Kelly.
"This year was supposed to be a rebuilding year, especially considering that last year brought the graduation of three program stalwarts," Crosby said, "This tournament showed us what we already knew: that we have the talent to make a return to Nationals. Something especially impressive was the performance of our freshmen team members, David Bainbridge and Allyn Sims. They are replacing unbelievably talented individuals, and stepped up to that task in a big way in Baltimore."
The team finished the tournament with an 11-1 record. "Most tournaments only have 8 ballots, so having more judges but still winning that many ballots [highlights] the team's success more," said Coach Christian Fernandez.
"The competition was intense but so rewarding. Whether it was our coaches, competitors, or fellow teammates, everyone was encouraging each other and pushing each other to do better," Sims said, "When they announced us as the winners, we were all so surprised. Audrey and I just yelled 'What?!' We were—are—so excited, excited that we are each other's teammates, and excited to see where the Lord will take us this season."
Hosted at University of Maryland Francis King Carey School of Law, the tournament spanned two days. Participating universities and colleges included:
American University
Brown University
Drexel University
Florida International University
George Washington University
Haverford College
Howard University
Iona College
Johns Hopkins University
Patrick Henry College
Stevenson University
Swarthmore College
University of Delaware
University of Maryland, College Park
University of Maryland, Baltimore County
University of North Carolina
University of South Carolina
University of St. Thomas (TX)
Vanderbilt University
Wake Forest University
Washington & Lee University
Ziemnick added, "Coach Fernandez was behind me as they announced the second-placed team, and he tapped me on the back, saying somewhat sadly, 'Oh well.' Then they announced we won, and I was shocked. I'm happy he tricked us (he already knew we won), since it made the win so much sweeter and surprising. The tournament was a absolute blast, and I can't wait for another one with this team."
Mock Trial introduces students to the engaging world of civil and criminal trial advocacy. PHC students compete in the American Mock Trial Association (AMTA) against more than 700 teams from over 400 programs around the country, including many from the nation's top ivy-league institutions. Fierce competition hones their critical thinking skills and equips them to clearly articulate passionate and well-reasoned legal argumentation.
-----
To learn more about PHC's world-class mock trial program, click the button below.