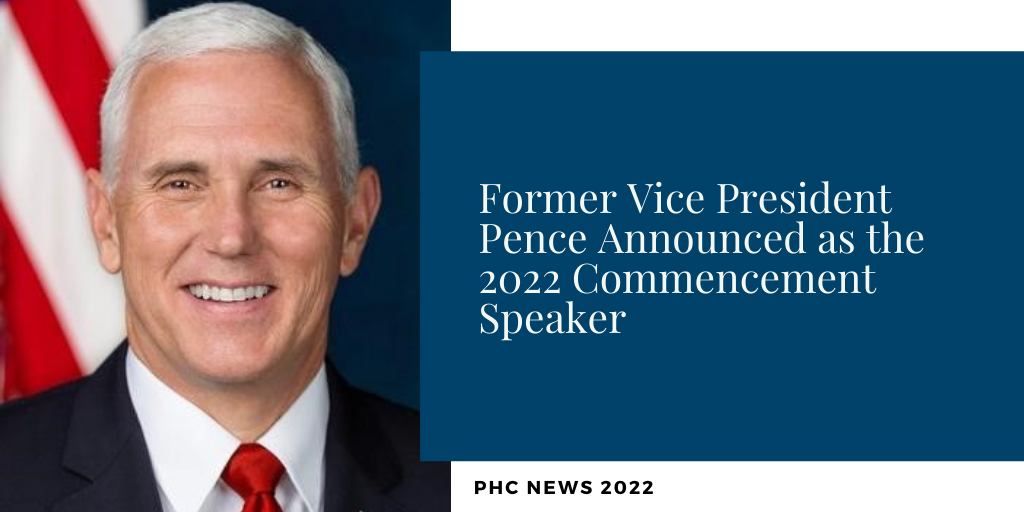 Patrick Henry College is pleased to have former Vice President Mike Pence deliver the commencement address and charge to its class of 2022.
Pence was born and raised in Columbus, Indiana, with five siblings in a family that understood the importance of "hard work, faith, and family." He commonly refers to himself as "a Christian, a conservative, and a Republican—in that order" and believes "the foundation of America is freedom, and the foundation of freedom is faith." On those two bedrocks, he built a long and distinguished record of guarding American ideals.

Mike Pence's Journey
Pence earned a bachelor's degree in history at Hanover College and renewed his Christian commitment while there. He continued his studies at Indiana School of Law, where he would meet his wife Karen at a church service. In those early years, his voice would be heard across the Hoosier state on The Mike Pence Show, a syndicated radio and TV program on public affairs.

At the age of 40, Pence won a seat in the United States House of Representatives. Over the next 12 years, he established himself on Capitol Hill "as a champion of limited government, fiscal responsibility, economic development, educational opportunity, and the U.S. Constitution." He also values family and argues that "our nation's strength begins at home because a strong family makes a strong America."

In 2013, Pence was elected as Indiana's 50th governor, and helped to put more Hoosiers to work than at any point in the state's 200-year history. In addition to seeing the state's unemployment rate drop by half during his term, he expanded school choice and created the largest tax cuts in Indiana history. Donald Trump tapped him as his running mate in 2016 and together they entered the White House the following January.

Mike Pence Today
In 2021, Pence joined the Heritage Foundation as a distinguished visiting fellow and the Young America's Foundation as the Ronald Reagan Presidential Scholar. Pence also founded Advancing American Freedom, an issue advocacy organization that merges the traditional conservative movement with the successes of the Trump-Pence administration. Long before Pence became Vice President, Ronald Reagan's vision and leadership inspired his youth. Today, he remains grateful for "the grace of God, the love and support of his family, and the blessings of liberty that are every American's birthright."3
Due to space considerations, the Commencement event is open to ticketed guests only and will be live streamed here on Saturday, May 7, at 11:00 a.m. from the Barbara Hodel Center.
__________________________________
1 From the Michael R. Pence bio at AdvancingAmericanFreedom.com, accessed on March 15, 2022.
2 Video "Threads of Freedom: Meet Mike Pence," available from the Michael R. Pence bio at AdvancingAmericanFreedom.com, accessed on March 15, 2022.
3 From the Michael R. Pence bio at AdvancingAmericanFreedom.com, accessed on March 15, 2022.