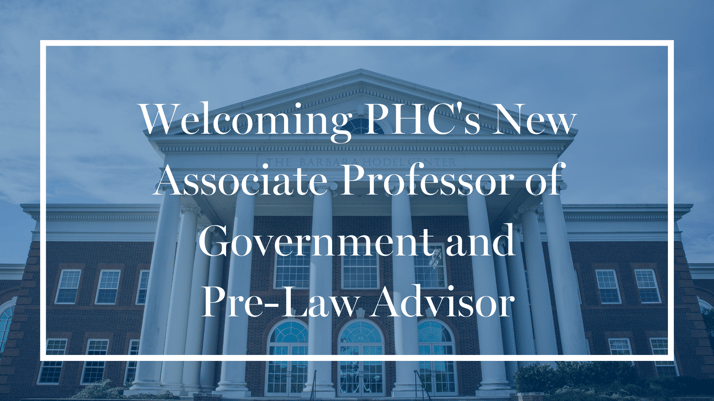 Dr. Jesse Merriam will be joining Patrick Henry College as Associate Professor of Government and the new Pre-Law Advisor. He is currently the 2019-20 Visiting Fellow in American Political Thought at the Heritage Foundation's B. Kenneth Simon Center for Principles and Politics. At Heritage, Dr. Merriam will be researching and writing on several topics, including affirmative action, populism's role in the Founding, and localism.
For the last five years, Dr. Merriam has been an assistant professor in the political science department at Loyola University Maryland in Baltimore, MD. At Loyola, Dr. Merriam also served as the Pre-Law Advisor. In that role, Dr. Merriam created a unique course, Analytical and Legal Reasoning, designed to help students improve their reasoning skills in preparation for the LSAT. This class has been critical in getting many Loyola students into Top 25 law schools.
Before graduate school, Dr. Merriam worked as an appellate litigator at The Center for Constitutional Litigation, and as a research associate at the Pew Research Center's Forum on Religion & Public Life.
Dr. Merriam earned his BA in Government at Wesleyan University in Middletown, Connecticut; a JD at The George Washington University Law School in Washington, DC; an MA in Philosophy (focusing on legal philosophy) at Johns Hopkins University in Baltimore, MD; and a PhD in Political Science (focusing on judicial politics) at Johns Hopkins University in Baltimore, MD.
Dr. Merriam specializes in constitutional law and theory, and has written over a dozen law-review and peer-reviewed articles, focusing mostly on the rule of law, the legal conservative movement, constitutional interpretation, and church-state relations.
Dr. Merriam lives in an 1840s stone farmhouse in Maryland with his wife and three children. He will be coming to campus regularly in the spring to begin serving as PHC's pre-law advisor.
-----
We believe that God calls Christians to serve in every area of culture, including law and government. By training leaders to communicate effectively, Christian students will be equipped to excel in their sphere of influence because they carry the truth and glory of God. Learn more about Patrick Henry College's world-class Pre-Law Advising Program by clicking the button.
Patrick Henry College exists to glorify God by challenging the status quo in higher education, lifting high both faith and reason within a rigorous academic environment; thereby preserving for posterity the ideals behind the "noble experiment in ordered liberty" that is the foundation of America.