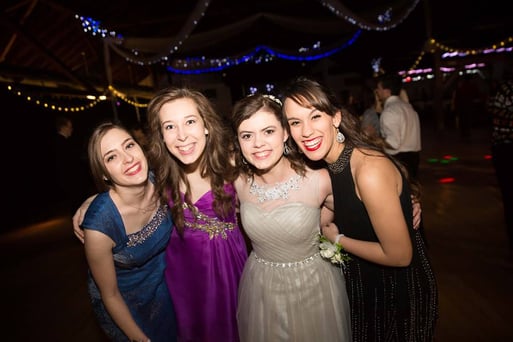 PHC hosted the annual Christmas Ball, It's A Wonderful Ball, at the Bush Tabernacle Skating Rink.
After deliberation on a theme, the planning committee selected It's A Wonderful Ball. "We really wanted to do something a little different from previous years, something that would capture the nostalgia and joy of Christmas. It's a Wonderful Life is a Christmas classic that nearly everyone loves, and it takes us back to our childhoods to remind us what Christmas is all about," explained Blaire Bayliss, a member of the Christmas Ball planning committee. "I wanted to do something a little different from the usual 'snow' and 'trees' themes, and I thought this might be something new and fun to try!"
According to the committee planning members, a profit was made from presale tickets.
"In September, we divided up roles: Brenna would do decorations, I would do promotion, Danielle would get a facility, and Blaire would do food. We picked the theme early on, so once Danielle nailed down a facility, I went to work designing posters and tickets," said Becca Samelson, a committee planning member. "Brenna talked to Dean Corbitt to get our money so we could buy decorations and food and to see what types of decorations we had access to. I then picked people to sell tickets, wrote a chapel anouncement, picked a date for the anouncement, then watched the drama unfold."
As dates were made, dresses bought, and meals planned the annual Christmas Ball came and went.
"I think there is this expectation that the night needs to go perfectly and that nothing can go 'wrong.' I think it is important to enjoy the time spent not just with your date but with the group you go with and everyone else at the ball," said Danielle Fife, a member of the planning committee. "Go, eat good food with your date and the group you go with, have fun at the dance, and go out after if you want. It is all about forgetting about the looming finals and how you are going to finish everything with just a week left in the schedule."
-------------------------------------------------------------------------------
This article courtesy of PHC's The Herald.