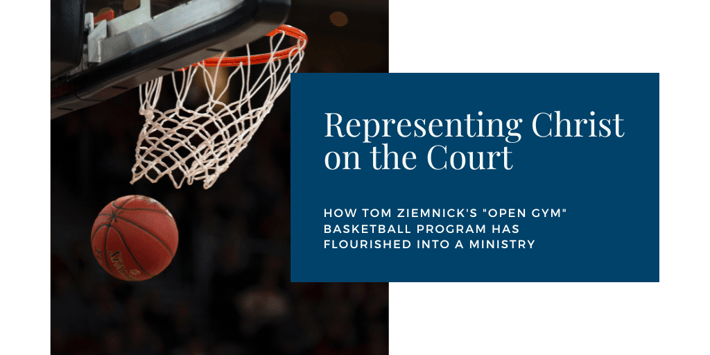 When Tom Ziemnick, the Vice President for Advancement at PHC, started the "Open Gym" basketball program in 2008, he had a humble expectation of what God would do with it. It was just going to be a small way of integrating Patrick Henry College students with the Purcellville community. A clean game of pick-up basketball to improve some skills and maybe connect the two worlds. Ziemnick never expected this program to last for over a decade (neither did Mrs. Ziemnick), much less to transform from a small group of PHC basketball players on the outside court into the Invitational Basketball program, at times hosting over forty players in the BHC gym every Sunday night.
The Invitational Basketball program both connects PHC students to the Purcellville community and provides ministry opportunities. Jensen Near, a PHC 2010 alumni, played whenever he got the chance. For Near, this program was both a way to improve his skills and meet non-Christians in the community consistently. He remembers 2011-2012 when most of the players showing up to the program were outside of PHC. Additionally, the high school boys from the Loudoun County homeschool team would play, building up a strong relationship with that part of the community. Though the initial appeal to Near was just the opportunity to play, he discovered richer things like community and new friendships within this program.
The current PHC men's basketball coach is David Ness, who has been intermittently coaching for about five years. Ness has played a lot of pick-up games throughout his life. Generally, the environment can be foul-mouthed or unsportsmanlike. "It's been a nice break to not have that happening," Ness said. "There is definitely something unique about the Patrick Henry College invitational." In an effort to glorify God, Ziemnick has made it a priority to keep the playing fair, the court clean of swears, and the conduct respectable.
The invitational is competitive (high school level or above) but emphasizes playing with sportsmanship. As a result, there have been no fights and many friendships made or strengthened through this program. According to Ness, the consistent numbers and growing outreach can be primarily attributed to Ziemnick's friendliness and inclusivity. As soon as a new player attends one of the invitationals, Ziemnick makes sure that the player feels welcome but also that they agree to and understand the rules before they are added to the list.
Although much of the ministry does not necessarily exist in direct conversation, the standard of playing in a God-honoring way acts as a good witness to the community. Ness has seen people from age 18 to 60 develop friendships, learn new skills, edify each other, and grow connected to the community through this program.