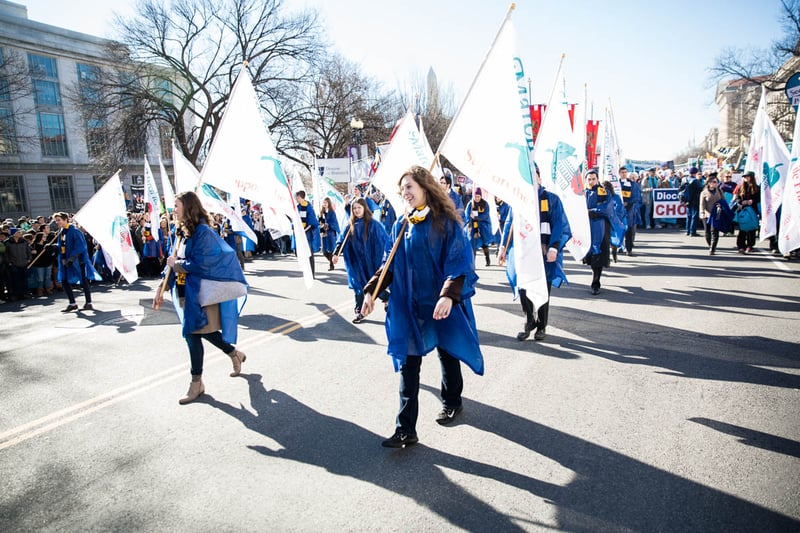 Patrick Henry College and its extended community arrived in Washington, D.C. last Friday, spearheading the world's largest pro-life event, the annual March for Life.
March coordinators chose PHC as one of two colleges to lead the march along the two-mile trek between downtown D.C. and the Supreme Court of the United States. Approximately 500 PHC affiliates — students, faculty, families, HSLDA and Generation Joshua staff —participated. The march proceeded calmly and without conflict.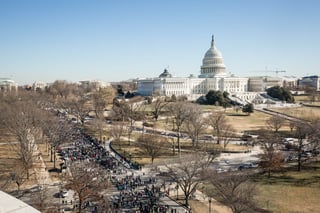 "Everyone was kind, warm, and welcoming," said Kara Brown, a PHC junior.
"There were a lot of people there taking it seriously. When you're educated on the subject, like a lot of PHC students are, then you better understand the weightiness of it," she explained.
PHC students, faculty, and staff boarded gifted luxury buses early Friday to attend the pre-rally event featuring House Speaker Paul Ryan, Pam Tebow, mother of Tim Tebow, and the Christian singer Plumb, among others.
After the march, attendees were also invited to a VIP reception at the Capitol Hill Club, sponsored by Generation Joshua.
"The March was a fantastic opportunity for PHC to stand for life by leading at the front," said student Michael Patton.
"We made connections with important pro-life leaders and told U.S. leaders that they cannot continue to allow for the murder of millions of innocent people," he added.
Manus Churchill, another a PHC junior, also commented, "I think it was really meaningful for PHC to get together and do something as a unified community voluntarily and for a cause we all believe in."
---
Read more about PHC's mission and worldview below!