Former Congressman Frank Wolf will deliver the charge to this year's graduating class at Patrick Henry College, helping PHC to commission this class into the next chapter in their journeys.
Congressman Wolf has a long and illustrious career of defending conservative principles in the United States House of Representatives where he held the seat for Virginia's 10th congressional district from 1981 to 2015. He cares deeply about matters of the family, the economy, human rights, and has been a devoted supporter of Patrick Henry College.
Today, PHC is honored to have Congressman Wolf serving as a member of the Board of Trustees.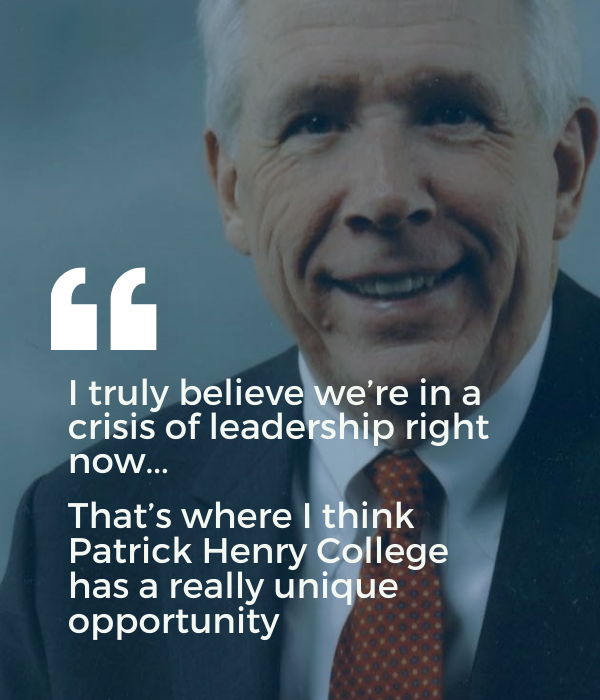 In an interview with Founders Magazine back in 2016, Wolf expressed his concern at the lack of bold leadership in the United States—one of the many reasons he believes in the mission of PHC.
"Our culture is chipping away at core values, like the family, and freedom of speech, and religious freedom, and it's happening at a rate like we've never seen before… I truly believe we're in a crisis of leadership right now," Wolf said.
My hope and prayer is that the next generation will have that passion and will to lead the nation and to protect human rights and religious liberty. That's where I think Patrick Henry College has a really unique opportunity. I've met and worked with many PHC students and they are exceptional young people who are equipped to go out and make a difference. I believe the next generation can be the force that changes the heart and mind of our nation, and I am looking to them to carry the baton.
Originally from Philadelphia, Wolf attended the University of Mississippi and then Pennsylvania State University before attending Georgetown University Law in Washington, D.C. From there, Wolf served as the deputy assistant secretary to the United States Department of the Interior before assuming public office in 1981.
-------
Do you know how to defend your worldview? Have you been trained to defend your faith with reason but also inform reason with faith? Are you looking for a college education that will equip you to do all of these things? Click below to learn how Patrick Henry College uniquely prepares its students for an ideologically diverse workplace.