Kati Marr recently packed her bags, boarded a plane, and joined fellow Journalism student Mary Muncy on a trip to Chicago over October break. But instead of sightseeing at Navy Pier in the Windy City or visiting with friends and family—as one might expect on a break—Muncy and Marr weren't there to relax. Their trip to Chicago would be a part of Patrick Henry College's latest addition to its Journalism program: Doubletake.
This past semester, Patrick Henry College has partnered with WORLD Magazine to give the Journalism students at PHC an opportunity to pursue a hands-on approach to journalism on a larger scale than ever before. The Doubletake team, made up of select students, will plan stories, investigate material, and conduct interviews for a number of long-form radio pieces during the fall semester. Then, in the spring, the team will turn that material into polished products to be published by WORLD Magazine's podcast in the summer of 2022.
It's not an off-campus internship per se. And it's not a student publication.
Doubletake is a unique opportunity for our students to put their skills to the test in a very real way, and to have their work showcased by one of the nation's premier Christian publications.
For Marr and Muncy, their trip to Chicago would take them to interview a key figure in the pro-life community, Jill Stanek. As a former nurse who witnessed second-term abortions firsthand, Stanek had a powerful message to tell Muncy and Mar, calling the practice contrary to Christian principles.
"I've never traveled for work," Marr said. "It's unbelievable to hear what she saw and what she witnessed. It broke my heart. At the end of the interview, I felt that this is a story that is worth telling; that people need to hear about."
Now, through Doubletake, she's getting the chance to help tell it.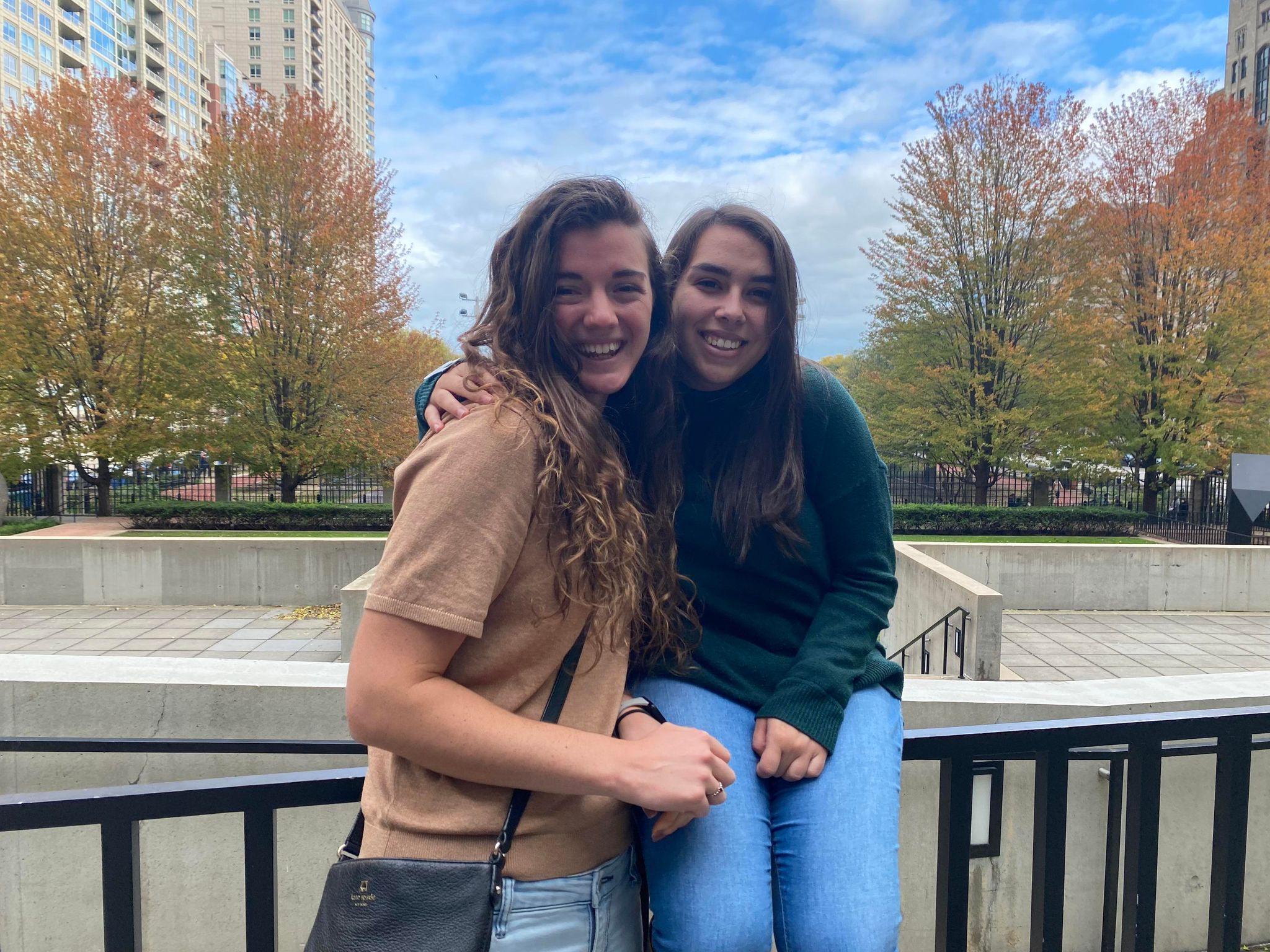 Pictured above: Mary Muncy (left) and Kati Marr (right) after arriving in Chicago

Marr is a production assistant with the team. Her role has been to learn everything she can about Adobe Audition, a computer software program used by professionals to edit audio files, and to help with the editing process. She will be a key player to turning hours and hours of interviews into a polished product.
"I do a lot of different things," she explained, "This semester is more of learning how to do things, get footage, making promotional material. . . . Next semester I'll be there to edit the stories together and be a source of feedback. I also have my own story that I'm working on."
The Doubletake team, which consists of about 10 students, is busy at work covering a wide range of stories. One student is covering missionaries in Haiti, forced into hiding by the 400 Mowozo Gang. Another is doing a story on organ harvesting in China. A third is covering the intersection between the comedy industry and widespread instances of depression in comedians. There's a story about a first kiss that took place during an active shooter lockdown.
These stories will allow the Journalism students at Patrick Henry College to apply their skills in ways that are simply not possible at a college newspaper. Doubletake offers our journalism students the opportunity to grapple with topics, people, and stories that deal with heavy subject matters.
"We want to be able to tell the full stories here," Marr said.
Marr, who has already done another internship with audio journalism and audio editing, says that her involvement in Doubletake has helped her better understand where she wants to go post-graduation. She can see a future for herself in the audio-visual journalism industry. With this kind of experience under her belt, it's a possibility that's one step closer to becoming reality.
Make sure to subscribe to PHC News to continue getting updates as the Doubletake team gets closer to putting out its first set of stories.
---------
Although Doubletake is a great opportunity for Marr, it isn't her first time working on a professional product and on a professional team. Click below to learn about her internship with Focus on the Family earlier this year!