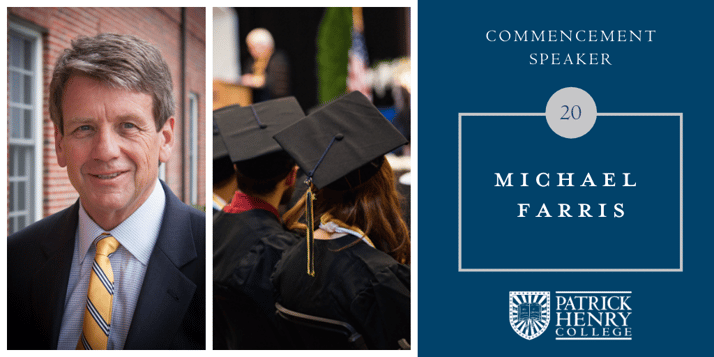 Patrick Henry College's class of May 2020 has long looked forward to celebrating their accomplishment with a commencement ceremony, which was originally scheduled for May 9th. Due to COVID-19 and a deep interest in celebrating together in person, we had to reschedule the ceremony. Today, we are pleased to invite the families of the Class of 2020 to join us for Baccalaureate and Commencement ceremonies on Saturday, August 8th. Michael Farris, PHC Founder and Chancellor Emeritus, will deliver the commencement address.
The Ceremonies
We are filled with joy at our students' accomplishments and are excited to see where God will lead them in their next chapter. Baccalaureate and Commencement festivities will both take place on August 8th. Unfortunately, CDC guidelines and Executive Orders from the Commonwealth of Virginia require us to limit the number of attendees to family only. But a live stream of both events will be available here for those who are unable to attend.
The Speaker
Patrick Henry College is excited to announce the Class of 2020 commencement speaker is Michael Farris, Founder of the Home School Legal Defense Association and Patrick Henry College and the CEO and general counsel for Alliance Defending Freedom.
Farris has written over fifteen books, including three novels, two constitutional law textbooks, and works on marriage, parenting, homeschooling, political advocacy, and religious liberty. He is the author and narrator of a popular video series entitled "Constitutional Literacy." His daily radio program, Home School Heartbeat, airs on several hundred stations nationwide. Farris was ordained in 1983 and was the founding pastor for Blue Ridge Bible Church.
______
Click below to view the live streams and catch up on old webcasts!