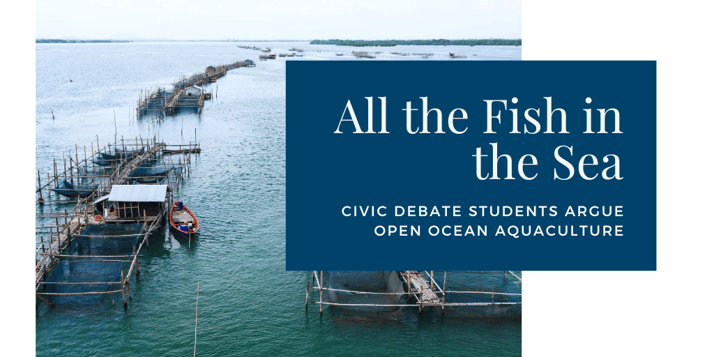 Because of its rigorous and effective approach to education, forensics at Patrick Henry College is not simply an extra-curricular—it is a vital co-curricular and fully-recognized element of PHC Academics. On March 11, dozens of PHC students competed in the Sentinel Challenge Civic Debate Intramural.
The Sentinel Challenge offers a forum for both novice and experienced debaters alike to compete in tandem. For novice debaters, this event is a chance to strengthen the basics of public peaking, rhetoric, and debate. For experienced students, ranking highly in this event can earn them a place on the PHC travel debate team. It is a screening tool for coaching staff and a proving ground for the students.
The topic for this semester's showcases was "Acceleration of open ocean aquaculture development would be desirable." The topic was borrowed from Miami University, who is hosting an identical topic for about 15 schools, including PHC, at a tournament later this month.
PHC debate coach Ryan McDonald writes, "So we have our intramural students debate the same topic to help accelerate our program's prep and research into the subject of aquaculture in advance of that April competition."
The final round of the debate featured local experts from George Mason University. Dr. Diego Valderrama is an Assistant Professor & Undergraduate Program Advisor at GMU for Marine Conservation, Natural Resource Economics, and Sustainable Aquaculture. Dr. Paul Razafinjatovo is an Adjunct professor at GMU, covering Marine Policy, Marine Spatial Planning, and Conservation. PHC Sophomore Josiah Todd also served as a stand-in judge.
The top two teams from the primary rounds were Noah Poythress ('25) / Sarah Schmidtler ('23) and William Storz ('25) / Steven Cable ('25). Each team member had to prepare and present a 6-minute Constructive and a 4-minute Cross Examination. They were then given a 2-minute break to collaborate with their partner before each team's 5-minute rebuttal.
Storz / Cable won the coin toss and chose to argue Negative. That made Poythress / Schmidtler the Affirmative team. Both of these teams had earned the most points from the previous rounds and all four team members won Top Speaker awards for their elocution, so the competition was stiff.
The final debate was attended by the other intramural competitors, who eagerly listened and awaited the result. Dr. Valderrama said of the debate in his comments to the competitors, "it was back and forth the whole time. I would hear one argument and agree with the Affirmative, but then hear one from the Negative and agree with that side." By a 2/3 vote, Poythress and Schmidtler came out on top.
The final results were Noah Poythress / Sarah Schmidtler (1st), William Storz / Steven Cable (2nd), Nathan Semlick / David Stokarski (3rd) and Nathan He / Mark Epstein (4th). The Top Speaker awards went to Clara York, William Storz, Nathan York, Matthew Harris, Sarah Schmidtler, David Stokarski, Steven Cable, and Noah Poythress.
PHC's civic debate program is a research-based competition that provides students with opportunities to contribute policy solutions for a global civic society, and aids in their development of professional presentation and leadership skills. From open ocean aquaculture to social justice and religious freedom issues, civic debate teaches students to think classically as they wrestle with, understand, and respond to social, political, and cultural ideologies that they may disagree with.