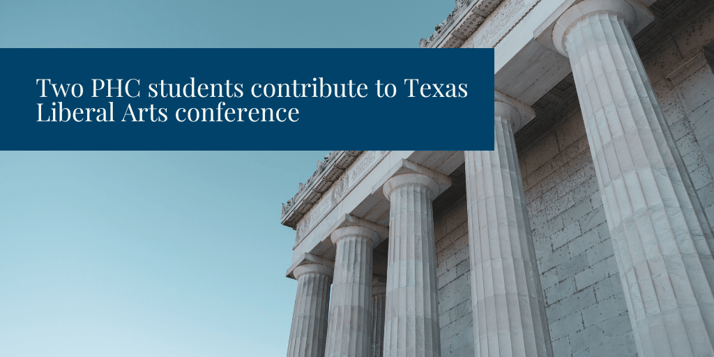 Students from colleges all over the country gathered at the University of Dallas last October for the 5th Annual Braniff Undergraduate Conference in the Liberal Arts. Two of these students hailed from Patrick Henry College. Elyse Burgess and Lauren Crane first learned about the conference through several PHC alumni who were on the council at the University of Dallas graduate school. They applied and were selected as panelists.
Burgess says of the experience, "It was an event with students from different schools, different church traditions, and different emphases, even though they were all in the Christian classic liberal arts umbrella." Burgess was selected to speak on her paper titled Thomas Cole's Visual Poetry: The Voyage of Life, about the painter from the Hudson River School, which was written as an assignment for her Art History class at PHC.
Each student presenter was placed on a panel with 3-4 others grouped by topic. Burgess spoke with Panel I: Journeying and Voyaging. She and her fellow panelists spoke on the "visual allegory of the Christian life in the theme of Pilgrims Progress." One of the other panelists' featured paper was on Dante's Purgatorio, which Burgess had just read for Ancient and Medieval Political Theory at PHC.
The panelists presented before the audience of students invited to the conference, and several professors also moderated. The students then had the chance to listen to the other panels, including one by the moderating professors. "Everybody asked good questions that made me think, but nothing was terrifying," says Burgess.
Crane was a member of Panel III: Love, Human Nature, and the Feminine. The paper she presented on was titled Beauvoir's "Eternal Feminine" in Till We Have Faces. Crane answered questions on God's design for women and how this is demonstrated in the C.S. Lewis novel.
Alongside the other presenters, Burgess and Crane arrived Friday afternoon and attended the professor panel and dinner. The other panels were held on Saturday, culminating in the keynote speaker, Dr. Elizabeth Reyes from Thomas Aquinas College.
Burgess says it was a great experience to discover what it was like to present on an academic paper. "It is my ambition is be a professor, and if that is something the Lord has in his plans for me…it was a lot of fun to try it out." She confessed to being nervous about meeting the other students, but as she got to know them, she found it was an enriching experience. "I learned that we're all here pursuing the good, true, and beautiful."