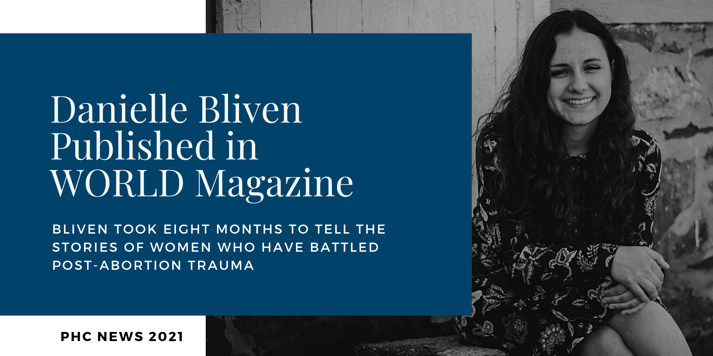 Danielle Bliven, a junior studying journalism at Patrick Henry College, spent eight months listening to the stories of women who dealt with an abortion—and the emotionally-traumatic aftermath that it often brings. She published a story with WORLD Magazine recently, sharing some of their stories.
To read her article, click here
Abortion and the Pro-Life movement are topics Bliven has been passionate about throughout her time at Patrick Henry College. She has participated in the March for Life and encouraged many of the students around her to think critically about the impact abortion has had on society and individuals.
While working with Alliance Defending Freedom as an intern last spring, Bliven spent time researching and learning about women and abortions. As she continued to learn, she ended up immersing herself in the many stories of the ladies she read about. She wanted to know more, and before long began to reach out to many women willing to share their experiences.
Over the better part of a year, Bliven grew more and more aware of the psychological burden often associated with abortion. Bliven hopes her story with WORLD will give readers clearer insight into the pain that's so closely tied to these private and seldom talked about circumstances.
"My hope for the story is to help Christians see that these women deserve our empathy," Bliven said.
To read more about our other journalism students and the powerful stories they write, click below!
------