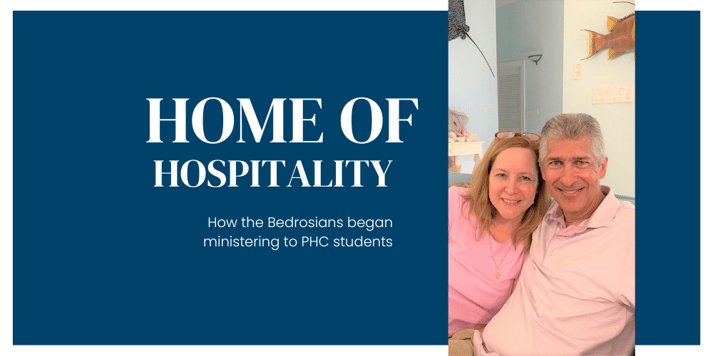 "Come on up!" Scott Bedrosian called from his back porch as senior Charity Kim's wing walked up the hill behind the Bedrosian home. He looked up from the hotdogs and hamburgers he was grilling. The girls instantly felt at home as the Bedrosian family introduced themselves and offered refreshments. "I really appreciated how welcoming they were and how open they were to sharing their home," said sophomore Hannah Gaschler. "Being in college, sometimes the thing I miss most is that home environment."
Since the start of this semester, the Bedrosians have hosted four separate groups of around 20 students, from brother/sister wings to the entire RA team.
Out of 81 jobs Scott Bedrosian applied to in 2020, the job at PHC was the only one he did not initiate. He had received an email: "Hey Scott, this is Tom at Patrick Henry College. Bruce told me you might be interested in a position here. I'd love to chat. Give me a call." As Scott Bedrosian sat there staring at the email, three questions came to mind. "Who are you, Tom? Who is Patrick Henry College, and who in the world is Bruce?" A friend of a friend of a friend had sent his resumé to the school.
Just one year earlier, Scott Bedrosian had lost his job when the congressman he'd worked for lost his reelection campaign. With his extensive background in intelligence, various ministries, politics, and the Air Force, Scott Bedrosian had many options for a new job. He wanted to stay in northern Virginia because he felt God had him and his family there for a reason.
Scott Bedrosian prayed that he would have a job by Thanksgiving. By the week of Thanksgiving, he had three strong opportunities. Within 24 hours, all three jobs called and told him they were going in a different direction. Just hours after hearing from the last job, he received the email from PHC. He got a job offer from the college on January 3, 2021, exactly one year after losing his previous job.
As Scott Bedrosian considered the job at PHC, he and his wife, Lisa, met faculty, students, and alumni. "We very quickly realized . . . what a gift it would be to live close enough to just bless the kids," Lisa Bedrosian said. "There's something in me that just knew having a home that would be a place where kids can just get away would be a gift."
The Bedrosians envisioned having a home within walking distance of the school where students could come for fellowship, to eat a home-cooked meal, or to study in a home environment. As they looked for a home in the area, Scott Bedrosian received an email about a house less than a mile from the school. They looked at the house on a Wednesday, bid on a Friday, and the next Sunday, they were notified the house was theirs. "God clearly had an idea that we were going to be here. I had nothing to do with it," Scott Bedrosian said.
Scott Bedrosian now works in the Advancement Office at PHC. His family has embraced their calling to provide a place for students to fellowship. Although both the Bedrosians have extensive experience in ministry, Lisa Bedrosian started a course in biblical counseling to be even more equipped to minister to students.
"We wanted the home because we wanted to minister," Scott Bedrosian said. "We 100 percent believe this is God's gift to you as a student. We are just kind of managing your home. . . . You are the reason why we are here . . . to serve students and invest in those who are going to engage the culture for Christ and for liberty."
Their home sits on a hill next Purcellville Baptist Church. Their two-story deck overlooks their yard which is complete with a volleyball net and fire pit. "It's just been so exciting to watch God write the story," Lisa Bedrosian said. Even though they were only moving 40 minutes from their previous home, she admitted that the move was harder than she anticipated. "And now I can't imagine why I even doubted for a moment. We sit on our little deck and look out over the trees and are just so thankful to be here."
This story originally appeared in PHC's journalism publication, The Herald.