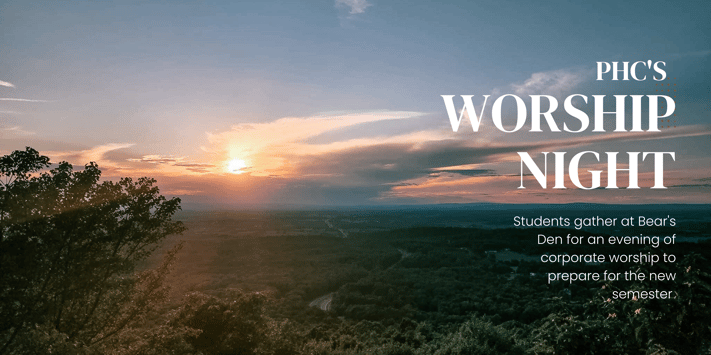 Corporate worship is an integral part of campus life at Patrick Henry College. At the end of Fall Retreat, both new and returning students gather annually at Bear's Den to spend an evening worshipping together. This year, sitting atop the mountain, surrounded by evergreens and a warm evening breeze, Resident Director Nathaniel Reiley led the new freshmen, as well as other students, in the first worship night of the semester.
Pink and yellowish hues leveled at the eyes of the onlookers, many of whom had yet to see the beauty of Northern Virginia sunsets. A traditional PHC hiking spot, Bear's Den was chosen for the prayer night to introduce the freshmen to the scenery and to each other. "I think the chief reason the RA team organizes prayer nights is that it is really important to keep the focus of why we are here on God and His goodness," Reiley said.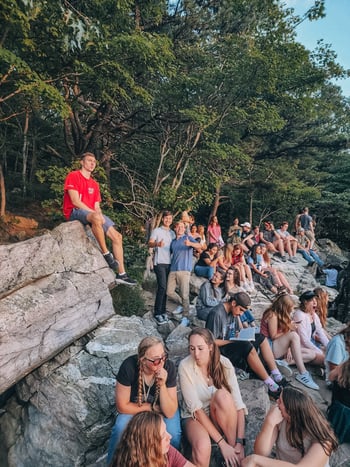 The night started with Scripture readings and singing and ended with group prayer. Despite the stress of moving into their dorms, many of the freshmen and returning students took a respite from their worries to join the group. "It felt special, like God was there amongst us," Reiley said. "Rarely have I seen so many people genuinely moved to worship the Lord with such sincerity and joy." The praise that echoed off the mountains attested to the spiritual fulfillment that night.
As a college that prioritizes glory to God and fellowship with one another, PHC intends to hold more worship nights throughout the semester and encourages students to start their own Bible studies, prayer groups, and worship nights. PHC is blessed to be surrounded by God's beauty and by students who desire to worship Him.