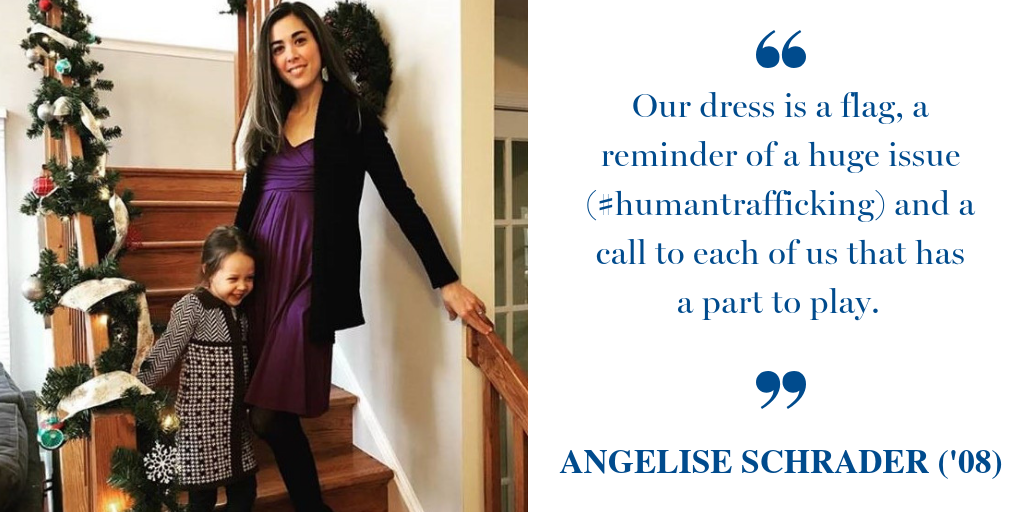 Alumna Angelise Schrader ('08) joined the Dressember campaign this month, advocating for human rights through fashion.
Here's what she posted on Instagram December first:
"It's the first day of #dressember. A month I have committed to sacrificing comfy sweats & sweatshirts to raise awareness for the voiceless! Learn more & join my campaign by going to link in my profile. Our dress is a flag, a reminder of a huge issue (#humantrafficking) and a call to each of us that has a part to play. Would you join me this month and the dynamite @mcckim? Let's collectively make a difference!"
Dressember advocates seek to raise awareness about human trafficking by making "a statement" to the community. "The dress…serves as the conversation starter to educate your community about modern slavery," the website says, "Through your personalized campaign page, you'll be able to share your journey with your community and make a tangible impact for our grant partners around the globe."
Angelise has raised $691.85 to date, and aspires to reach $1,000 by the end of the month. If she exceeds her goal, she hopes to visit a Compassion child that she and her husband sponsor in the Philippines. That's another way to help kids avoid human trafficking, she says. Check out her fundraising page here, and follow her #dressember campaign day by day via Instagram.
Angelise doesn't just advocate for human life through fashion, however. She is also founder of Wholistic Ho'ola, an online ministry encouraging Christian women to pursue holistic healing. She offers virtual resources as well as "Ebeneezer Interviews," focusing on God's love and faithfulness. Explore her website here.
"I believe that finding wholistic health and healing is intrinsically linked to who God is (hence the beauty of the world ho'ōla, to save/salvation), but it is not limited to just mental and spiritual health, but also pertains to how we care for our bodies and souls," she writes on her website.
-----
Angelise is one of countless PHC alumni who are passionate about shaping the culture for Christ. If you enjoyed this spotlight, click the buttons below to read more like it...