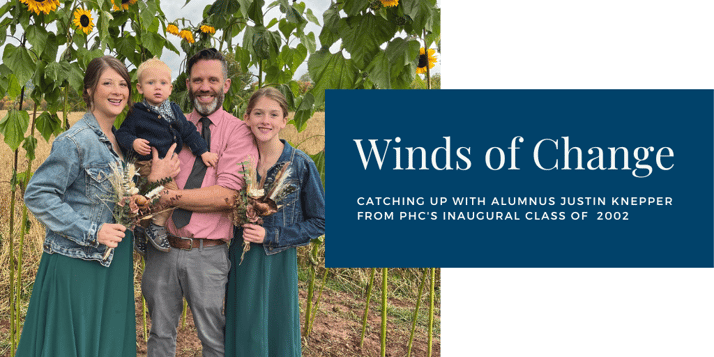 The Michigan Association of Timbermen (MAT) recently announced PHC alumnus Justin Knepper (GOV '02) as the new Executive Director. Even though he has only been on the job for three weeks, Knepper already has some goals in mind. "I love to look at organizations and how they can become healthy and grow and serve their mission and goals," Knepper said. This job is just another way that Knepper has been able to follow his passion—helping governments and local economies work together for a mutual benefit.
This passion began at a very young age. Knepper grew up in a town where a copper mine and paper mill both closed in the 90s. "I saw firsthand and felt the devastation of major employers going away," Knepper recalled. Afterwards, his hometown became a ghost town and attendance to his dad's church dropped dramatically as families were forced to leave the area to find work. This sparked his interest in learning how the government and local economies work together. Knepper discovered ways to limit government interference so the economy could "do its thing." However, he also knew how the government could assist in clearing the way for small businesses to thrive.
When Knepper worked in politics, he began shifting towards coordinating with small businesses to discover what their interests and needs were. After graduate school, Knepper began working for the Grant Rapids Chamber of Commence under the Downtown Development Authority. During that time, he worked with small businesses in the historic downtown in Sioux Sainte Marie. Not only did he help entrepreneurs with their business strategies, but he also encouraged them from a Christian perspective. "The biggest issue is that people are at the heart of it and small businesses are people too. Many of them are dealing with a lot of personal issues, problems, pain, and sadness—just like anywhere," Knepper said.
When the job opportunity with MAT appeared, he decided to apply. Knepper said the job was appealing "in terms of being able to work both with a new type of small business and big businesses all across the map, as well as being able to learn brand new things about a different industry."
Knepper hopes to help MAT tap into a new vein in the forest products industry in Michigan: mass timber. "Mass timber is new technology that is replacing steel and concrete in [the] bigger and broader spectrum of construction," Knepper described. While this new lumber is simply a stack of wood glued together, it is both biodegradable and stronger than steel (while maintaining the same burn ratings). Knepper also hopes to help logging companies with their succession plans. "The average age of a logger in Michigan … is 55 years old, and the young people are not chomping at the bit to go spend their lives cutting down trees," Knepper stated.
Knepper graduated with Patrick Henry College's inaugural class in 2002. When he heard that PHC would open in 2000, Knepper knew he wanted to attend. After being homeschooled when it was still illegal in Michigan, he knew the importance of good, Christian lawyers. "My parents had [the Homeschool Legal Defense Association] make some calls [because] social services were getting called on us just for homeschooling." When he saw the film America, You're Too Young to Die, twelve-year-old Knepper wanted to spend his life helping his country and decided to become a constitutional lawyer. After his first constitutional law classes, however, Knepper changed his mind: "I was so bored trying to figure out why I had to memorize all these different cases." Instead, he focused on state and local government.
After graduating, he worked for U.S. Senator John Thune in South Dakota for two years. In 2006, Knepper began working as a statewide coalition director for the Michigan Republican Party. While he enjoyed what he did, he did not understand all the conservative issues. To that end, he went back to school and earned his master's degree in Public Administration in 2010. After that, he returned to local government until he recently joined MAT.
"I spent twenty years pursuing what I though was super important which was work and trying to change America," Knepper said. He encouraged students to focus on God first, family second, and career third.
"Whatever you do, do it with all your might," Knepper said. "Don't be afraid to make changes. You may feel like you were called to a specific type of work, but there is nothing wrong with trying new things [or] learning new things. Make sure you are staying open to His leading."