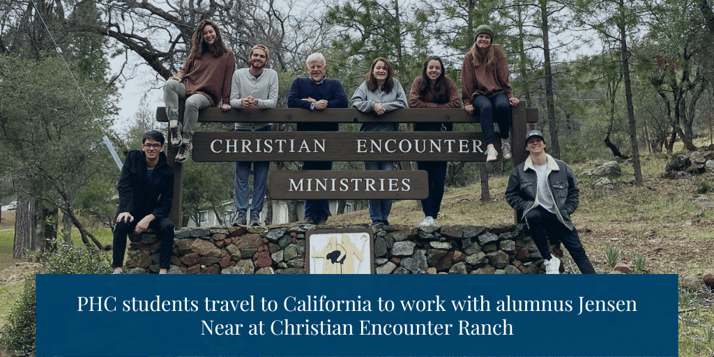 Jensen Near stood and gazed at the faces of the students, staff, and interns surrounding him. Slowly, they each placed their left hand on the shoulder of the person next to them and lowered their heads in prayer. This group was brought together at this time to pray over a student being sent home for breaking important rules—a process they call "circling." This was the second circle in a single day. In the emotion of the moment, Near was sobered by the realities of the ministry he engaged in.
"Emotional safety is not an option, not a reality here," Near said.
Near is a Patrick Henry College alumnus who serves as the Director of Internship and Student Life at Christian Encounter Ranch (CER). CER is a residential program for at-risk youths, helping them obtain their GEDs and providing a safe, loving environment to encourage mental and spiritual growth.
He grew up as a staff kid at a program similar to CER in rural Northern California. Similar to many ranch students, he came from a broken home with an absent father. Two men stepped into his life at the age of fifteen. They kept him grounded in his faith and encouraged him in his walk with the Lord. His desire to be like these men is what led him to PHC and to serve as a Resident Assistant (RA) and Resident Director (RD).
Near entered PHC politically charged and determined to leave an impact on the American government. However, that changed after an internship on the Hill his senior year. "I recognized that I didn't have the thick skin required to engage in the political battle, and I recognized that I [had a] heart for discipleship," Near said. It was this heart for discipleship that led him to be an RD for three years post-graduation.
"I met Jensen his freshmen year, and my first year at PHC, in 2006," Dean of Students Sandra Corbitt said. "I love Jensen. He was great to have on the team for such a long time, first as a RA then as an RD." Near and Corbitt shared an impactful relationship on both sides.
Near described Corbitt as the boss who has had the most influence on him. Corbitt shared that Near left a mark on her and PHC as well. "He helped me to become a better Dean of Students. As an RD, he was great at coming alongside students and truly helping them," Corbitt said. Near credits PHC Associate Dean of Students, Jeff Thornhill, as being one of the five most impactful people in his life, though he didn't know him until his senior year.
Upon getting engaged to his now wife Elizabeth, he served as RD at William Jessup University for two years before returning to his home church to serve as the young adults' pastor there. During his time at Jessup, he ran into Nate Boyd, a fellow RA in his PHC days and the current Executive Director at CER. When Boyd stepped into the director role at CER, he began to look for someone to head up internships and student life.
"I had heard that Jensen was back at his home church and that he was in a pastoral role working with college students and I thought, 'man, that's a perfect role for him,'" Boyd said. "Here I am going to say 'Hey do you want to quit? You want to leave your hometown, home church, all the people that you know, and come up here to little Grass Valley for hardly any money and a really hard job?'"
Little did Boyd know that Near's time at his church was coming to an end. A month and a half before Boyd reached out, Near's pastor and boss had informed him that he had six months to look for other employment.
"At that time he told me he thought the Lord had something for me and that he wished he could keep me around but he just had the sense that he needed to kick me out so I could spread my wings," Near said. When Boyd reached out Near quickly agreed, realizing that his pastor had been right all along.
From PHC to pastoral ministry, Near believes that everything he encountered played a part in preparing him to serve at CER.
"He's very kind. He sees straight through people and the Lord has given him the ability to ask the right questions," senior Rachel McCracken said. McCracken was part of a team of students who went and worked alongside Near for a week over spring break. "Up until going to Christian Encounter, I knew that he was good at his job, but I didn't see that he was so good at conflict resolution. Not until we were standing there in a circle and he was dismissing a student," she said.
Despite the tender love and care shown to students at the ranch, not every student decides to healthily engage and respect the rules. This often leads to a student being suspended or even dismissed from the program, a decision that ultimately falls on Near's shoulders.
"If you're gonna love an at-risk teen, then your heart is going to be broken," Boyd said. He and Near often counsel students who have never experienced love before and are eager to lash out.
"Seeing him uphold the truth and do what was right, though very hard, in an honorable and respectable way that showed love to the student was so cool," McCracken said. Although his current job is difficult, Near wouldn't trade it for the world. Near is not a fan of change and felt like the Lord had to sort of push him along for many years.
"It's just been love—love the people in front of you. The Lord sort of had to move me along at...each big transition time," Near said. "A lot of the mentors I've had over the years have just emphasized being faithful and following God in your everyday life. Just [seek] Him in all the big decisions, and He will make your paths straight."
Interested in interning for Christian Encounter Ranch? Click here to learn more.