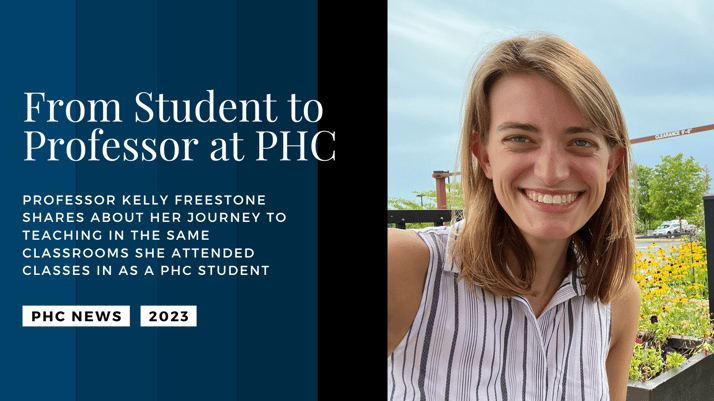 It was only a couple years ago that alumna Kelly Freestone (CLA '21) walked through the corridors of the Barbara Hodel Center as a Patrick Henry College student. This semester, she enters the same classrooms, but now as a professor herself.
Freestone was several states away on January 13, attending classes at her graduate school when she got an email from Dr. Douglas Favelo, Professor of History. He wrote that Dr. Stephen McRoberts, Professor of Classics, was going to take a break from teaching for one semester. This meant that PHC needed someone to fill his position.
McRoberts had been teaching Greek and Latin as well as a variety of classical history courses at PHC since 2006. Due to PHC's foreign language requirement, students must take four semesters of language courses. Many PHC students have chosen to study the ancient languages of Latin and Greek under the teaching of McRoberts. Whoever would step in for McRoberts for the spring semester had big shoes to fill.
Freestone had received Favelo's email on a Friday, began formal talks with PHC on the following Wednesday, and was hired the next day. On January 24, Freestone began teaching classes.
In addition to teaching Latin II, Latin IV, and Greek II at PHC—which is putting her far above the required 18 grad hours of classics in order to teach at the undergraduate level—Freestone is completing her last semester for her Masters in Classics. She is continuing to do all the homework and remaining classes virtually. Her thesis is also in the works and she plans to do most of the writing over the summer.
The transition from student to professor has been very natural for Freestone, although she admits that it is somewhat strange to be on the other side of the lectern. As a PHC student, Freestone was originally a distance learning student and tested into Latin IV. She took Latin V through Latin VIII (as well as Greek) with McRoberts. Not only did she grade assignments for him while she was enrolled, but she tutored other students in the ancient languages and would run review sessions for Latin II students before exams. Both her personal experience as a student and the time she spent helping other students has made her an excellent fit.
After finishing her Masters in Classics, Freestone would love to teach one day. "The gold standard for academia is a tenured position somewhere," Freestone said. "The end goal has always been to teach at a school like this, so I am really grateful."
Freestone says that the students have been wonderful. She enjoys teaching Greek and compares teaching Latin IV to "eating candy," as the students are working on translating Virgil, a personal favorite of Freestone's. Above all, she says, "It is an incredible opportunity to give back to the school. The professors and Dr. McRoberts poured a lot into me during my time here."